Pure Storage unveils NVIDIA-Powered for full spectrum of AI initiatives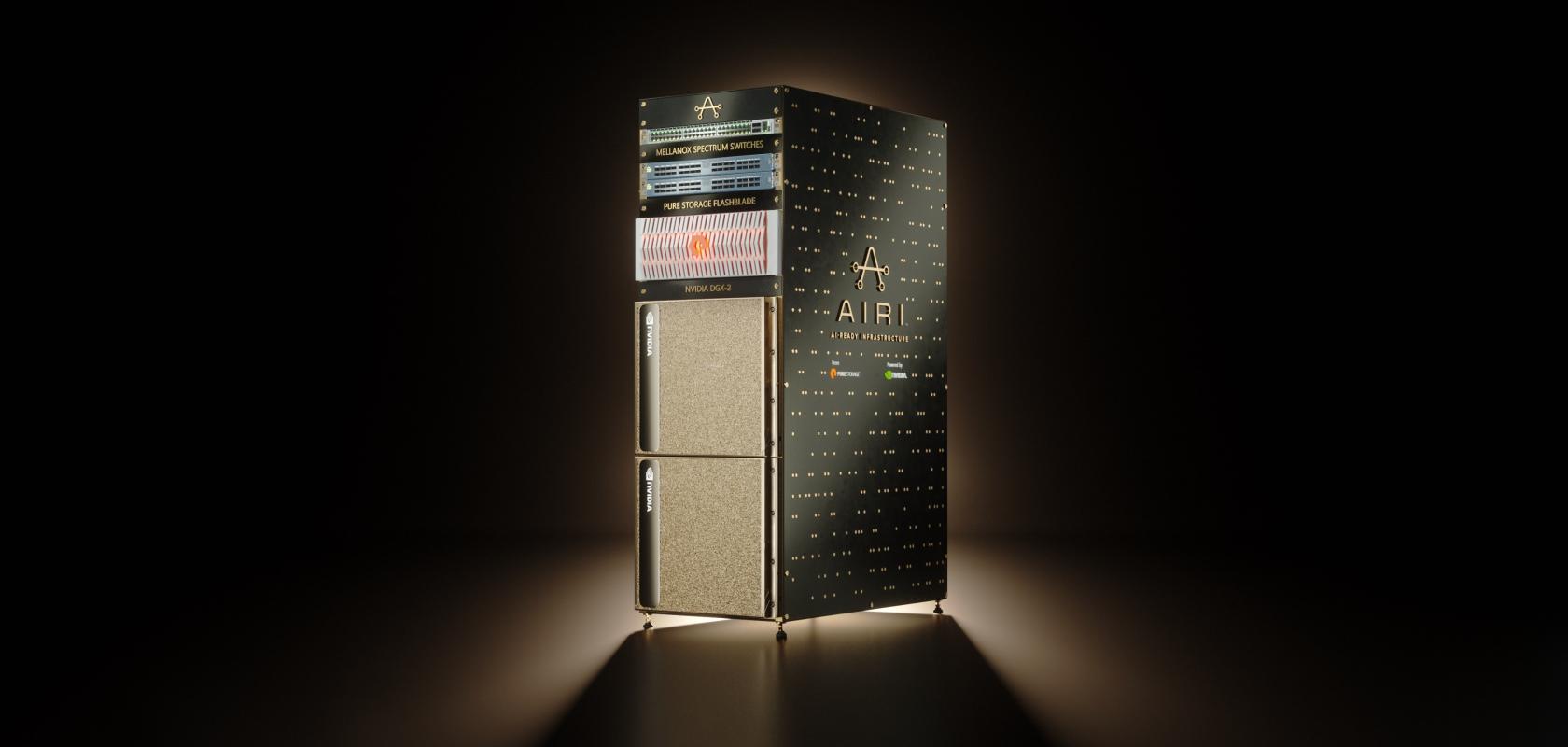 Pure has announced a complete portfolio of solutions for AI applications, from early inception to large-scale production. The new hyperscale configuration of AI-Ready Infrastructure (AIRI) is designed to deliver supercomputing capabilities for enterprises that pioneer real-world AI initiatives and have grown beyond the capabilities of AI-ready solutions available in the market today.
Built jointly with NVIDIA and Mellanox, hyperscale AIRI delivers multiple racks of NVIDIA DGX-1 and DGX-2 systems with both Infiniband and Ethernet fabrics as interconnect options. In addition, Pure Storage announced FlashStack for AI, a solution built jointly with Cisco and NVIDIA to bring AI within reach for every enterprise.
'Businesses from a variety of industries are discovering that AI is necessary to tackle existing problems and create new opportunities,' said Matt Burr, GM of FlashBlade, Pure Storage. 'For example, healthcare organizations from around the world are using AI to bring advancements to treatments and quality of care. AI is complex and in its early stages, which means the solutions built to enable AI must be straightforward and user-friendly. Hyperscale AIRI is designed to bring supercomputing capabilities to pioneers of real-world AI without the complexities that often occur when scaling across multiple racks.'
AIRI is purpose-built to enable data architects, scientists, and business leaders to operationalise AI-at-scale for every enterprise, and was recently named a Silver Winner for Storage Magazine's 2018 Products of the Year in the Storage Arrays category. Pure Storage's portfolio of solutions for AI-at-scale enables enterprise IT teams from any organisation to deploy AI infrastructure, which gives IT teams the freedom to build applications at a faster rate and achieve improved business outcomes. Pure Storage's full spectrum of AI solutions, including hyperscale AIRI and FlashStack for AI, is built to address the manageability challenges and productivity barriers by delivering a seamless and flexible end-to-end AI pipeline solution.
Hyperscale AIRI, now supporting NVIDIA DGX-2, delivers a simple yet powerful architecture to allow organisations to utilise the true power of AI by eliminating the challenges that prevent organisations from deploying AI-at-scale. With NVIDIA NGC software container registry and AIRI scaling toolkit, data scientists can begin building applications with containerized AI frameworks and rededicate time to deriving valuable insights from data. In addition, integration with Kubernetes and Pure Service Orchestrator means any IT team can deliver an AI-infrastructure with cloud-like elasticity. Hyperscale AIRI allows enterprises to scale beyond NVIDIA DGX-1 to DGX-2.
'AI innovators and their IT teams need a faster path to growing infrastructure without the setbacks of design complexity and unexpected performance or operations bottlenecks. Enterprises need a rack-scale infrastructure solution that offers a streamlined, predictable path for growing capacity,' said Tony Paikeday, director of DGX Systems, NVIDIA. 'With hyperscale AIRI, enterprises are getting a simplified solution that accelerates deployments and scales predictably in response to business demand.'
Hyperscale AIRI requires a network compatible with large high-performance computing environments. Mellanox's high-performance network delivers the industry's lowest latency and highest bandwidth network for Hyperscale AIRI.
'We are excited to partner with Pure Storage and NVIDIA to bring hyperscale AIRI to the market', said Rob Davis, vice president of Storage Technology, Mellanox. 'Building a scalable and high-performance AI infrastructure is one of the toughest challenges faced by our data centre customers. Mellanox end-to-end Ethernet and Infiniband interconnect solutions power some of the biggest supercomputers in the world. Hyperscale AIRI integrates the best of breed technologies from Mellanox, Pure Storage and NVIDIA into a reference architecture that can seamlessly scale from a single rack to massive systems.'