Streamlining drug discovery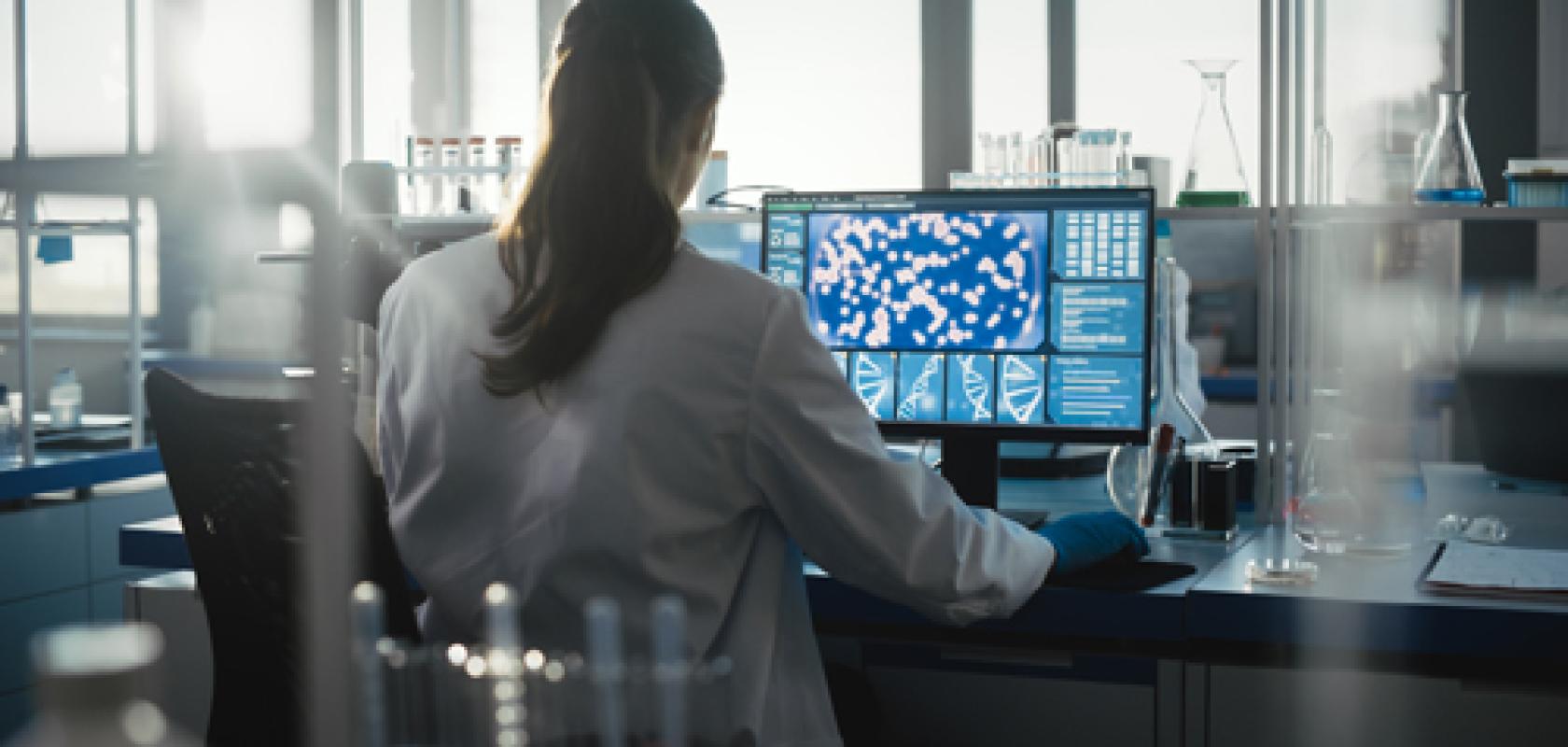 Drug discovery is a complex process that requires increasing resources and time to generate new molecules. As the processes have matured there is an increasing reliance on computational methods to accelerate the discovery process.
The use of computational chemistry software such as computer-aided drug discovery (CADD), analytics, and large scale simulations are being increasingly deployed by drug discovery companies. This is also compounded by emerging technology such as artificial intelligence (AI) and machine learning (ML) methods which drive the requirements for computing infrastructure to support research.
These changing requirements force organisations to look at their infrastructure and staffing, as these advanced computing platforms require IT expertise alongside domain experts in a number of scientific disciplines. There are also knock-on effects from these changing requirements that are driving the creation of new software and services that can support these companies and allow them to focus on science rather than supporting software and developing IT infrastructure.
Michael Riener, president of RCH Solutions, explains that much has changed in the last 20 years of drug development: 'There have been a lot of changes but one thing stays the same - the constant advancing speed of science. That makes it difficult to keep pace and it makes it difficult for the people that support scientists.'
'It is a challenge but there are solutions that help you do that. 20 years ago, many companies would not have needed RCH. A scientist sitting in his lab had their whole environment to himself, operating in a silo with all the resources available to him from a scientific computing standpoint. As things evolved, the business changed due to cost challenges and the like,' added Rainer.
Although the exact timeline varies for each organisation 'at some point a decision was made' to start sharing those resources with other people. 'Inevitably service gets diluted and goes down, and all the good people leave,' exclaimed Rainer. 'Then it went a step further lets outsource compute and IT services. And while that can save money, the outcome is not always what you want.'
This shift in the way that resources are managed – largely to outsource IT as a cost saving measure – meant that many companies struggled to deliver the kind of computing environments that scientists require. Over time, this has led companies like RCH to deliver a bespoke research computing environment (RCE) that can support drug discovery and biotech organisations scientific computing needs.
'That has opened up opportunities for companies to come in and provide services that meet the demands of customers that traditional IT could not meet,' stated Rainer. 'IT has a different role that fits the rest of the business, which, for the most part, compared to science and research is fairly standard.'
Scientists might need new resources or to adopt a new technology quickly and that is not necessarily supported through a traditional IT model. 'We found a niche that has evolved to support that scientific computing realm. We fit between IT and we fit between science and we have experience and expertise on both sides,' said Rainer.
Phil Eschallier, chief technology officer at RCH Solutions, added: 'Life science companies whether it is pharma biotech etc are going to higher PhD scientists to do science and what we do is do something very well, which allows them to do what they are good at instead of forcing scientists to do both the science and the IT.'
Streamlining molecular discovery
Optimising software and the underlying technology can be a hugely important step in ensuring organisational efficiency. Tools such as computer aided drug discovery (CADD) can help organisations make better use of the structural knowledge of either the target (structure-based) or known ligands with bioactivity (ligand-based) molecules. This can be used to highlight potential drug candidates for further study.
Cresset has several tools available for small molecules drug discovery including protein-ligand analysis, molecule design, ligand-based virtual screening and many other tools. For example, the newly released 'Flare V5' builds on Cresset's established structure-based design platform - integrating ligand-based methods.
The latest version embeds functionality previously available in Cresset's Forge software, such as qualitative and quantitative SAR models, pharmacophore building capabilities and expanded QSAR functionality powered by the Flare Python API.
In a recent blog post, Martin Slater, director for Cresset Discovery Services, discussed the potential to outsource computational chemistry to complement internal research. 'Our CADD scientists apply the best ligand and structure-based solutions for each project, and supplement our own suite of software with select third-party tools.
'Cresset software centers around our proprietary XED force field to describe molecules as they behave in a biological context,' Slater continued. 'Working with Cresset's field technology gives a rich, informative view of each individual molecule that allows us to perform experiments such as scaffold hopping and fragment replacement.'
'We find that this view resonates with synthetic chemists who tend to think about molecules in terms of their electronic characteristics, such as electron-rich or electron-poor, when assembling them. The result is a method that is both cutting-edge but also intuitive to the scientists who will apply the results.'
Cresset has always provided consultancy alongside its software, but over the past few years there has been a steady growth in demand for consultancy services. Just as there is growing demand for hardware support for drug discovery, there is also a need to support for the software
'Maintaining an in-house team is a luxury, and outsourcing offers a way to benefit from the advantages that computational methods deliver without committing to a significant investment,' notes Slater.
Cresset has considerable experience in applying computational methods to any type of molecular discovery. Primarily this means pharma and biotech organisations, but the company also collaborate with teams from the agrochemical, and flavour and fragrances, industries.
'As the Cresset technology can work with or without the structure of a target protein, we are able to work on the widest range of target classes,' said Slater. 'Having an unknown target protein structure can simplify matters when engaging in a discovery project. For example, if we're trying to modify an active compound that is unusable, either due to off-target effects or patent conflicts, but keep the biology the same. We can characterise the molecule according to its field activity and look for compounds with new chemistry that have the same activity, which are often from a different structural class. If a company identifies a problem or bottleneck that they would like support with, we'll set up a free initial discussion with our modelling experts to evaluate whether it is a project we believe we can help with.'
'When a customer chooses to collaborate with Cresset, they get access to the entire discovery services team, not just an individual,' stressed Slater. 'Each project employs our expert modelers, application scientists and medicinal chemists to provide specific chemistry knowledge.'
Developing a research computing environment
As the complexity of these services continues to increase with drug discovery companies now regularly delving into the worlds of high performance computing, advanced analytics and AI and ML the requirements to support these systems continues to increase. This is leading more and more companies in biotech and drug discovery to adopt managed services which free the organisation to focus on its scientific output.
'Typically we would meet with a customer, they would outline the requirements for a project or a set of projects. We would deliver with them a proposal in the form of a statement of work which outlines their requirements, our deliverables, pricing and finite times scales,' said Rainer. 'The key is with a managed services model you effectively have one person who is the key point of contact. Behind the scenes there are a lot of very experienced individuals doing the work.'
'Scientists are paid to do science and research – they are not paid to manage scientific computing resources. We focus on what we do really well and that allows them to focus on what they do really well,' Rainer added.
Changing requirements
While there are similarities in the goals and challenges that these organisations face the technologies, software and implementation models they choose can be vastly different, which means that RCH is constantly adapting to meet new challenges and driver RCE's, which can support scientific innovation.
'The interesting thing with this job is there really isn't too much that is typical,' notes Eschallier.
'Everyday brings a new set of challenges and the type of people that we hire really embrace. They are not the kind of people that use standard operating procedures, that like to rinse and repeat problems.'
'We will get involved with anything based on: computing at scale, specalised applications, HPC, leveraging public cloud, curating data, analytics, mining, driving ML/DL,' Eschallier continued. 'Each customer has a similar problem, "I need to find a target, synthesise it and move it forward and look for things like toxicity and efficacy".
'But how they do it and the technologies they want to use and the processes they want to follow are all different,' he stressed.
'Sometimes they want a holistic, cradle to grave approach and other times customers will say I just need you to do these three niche items.
'It is about standing up software, making data available and performance tuning is a growing requirement,' Eschallier concluded.
Fixing a research computing environment
Rainer also gave a practical example based on the company CelGene which has now been acquired by Bristol Myers Squibb. The company had already developed its own computing environment for scientific research but found that it did not meet the requirements of its researchers upon completion.
'CelGene was growing rather quickly and they were in a state of change. They were acquiring a lot of companies and leadership decided that it was going too fast and they needed to determine some parameters and take control,' stated Rainer. 'There were many demands placed upon them from the business but the one that stood out was the need for a scientific computing environment.'
'Corporate realised that if they were going to succeed collectively they required a platform that would allow them to scientific computing, share data and collaborate,' he continued. 'Effectively they built this RCE, opened up shop and nobody came. When they investigated why, the feedback that they got was not very positive. It was largely based on the fact that this RCE was not built with researchers in mind. It was designed with good intentions but it was designed around IT.
At this point RCH was allowed to come and investigate and recommend how this might be fixed. After working with CelGene and investigating the challenges and solutions they helped the company redefine the RCE to better suit the researcher and scientists.
'We happened to be very fortunate at the time that we arrived,' notes Rainer. 'We were asked by the chief architect of this platform to come in and evaluate it. We respectfully and constructively pointed out some things that needed to be changed and they embraced most of what we had to say and redesigned this platform with them. We worked with them and brought the teams together to redesign this RCE and deployed it,' Rainer concluded.