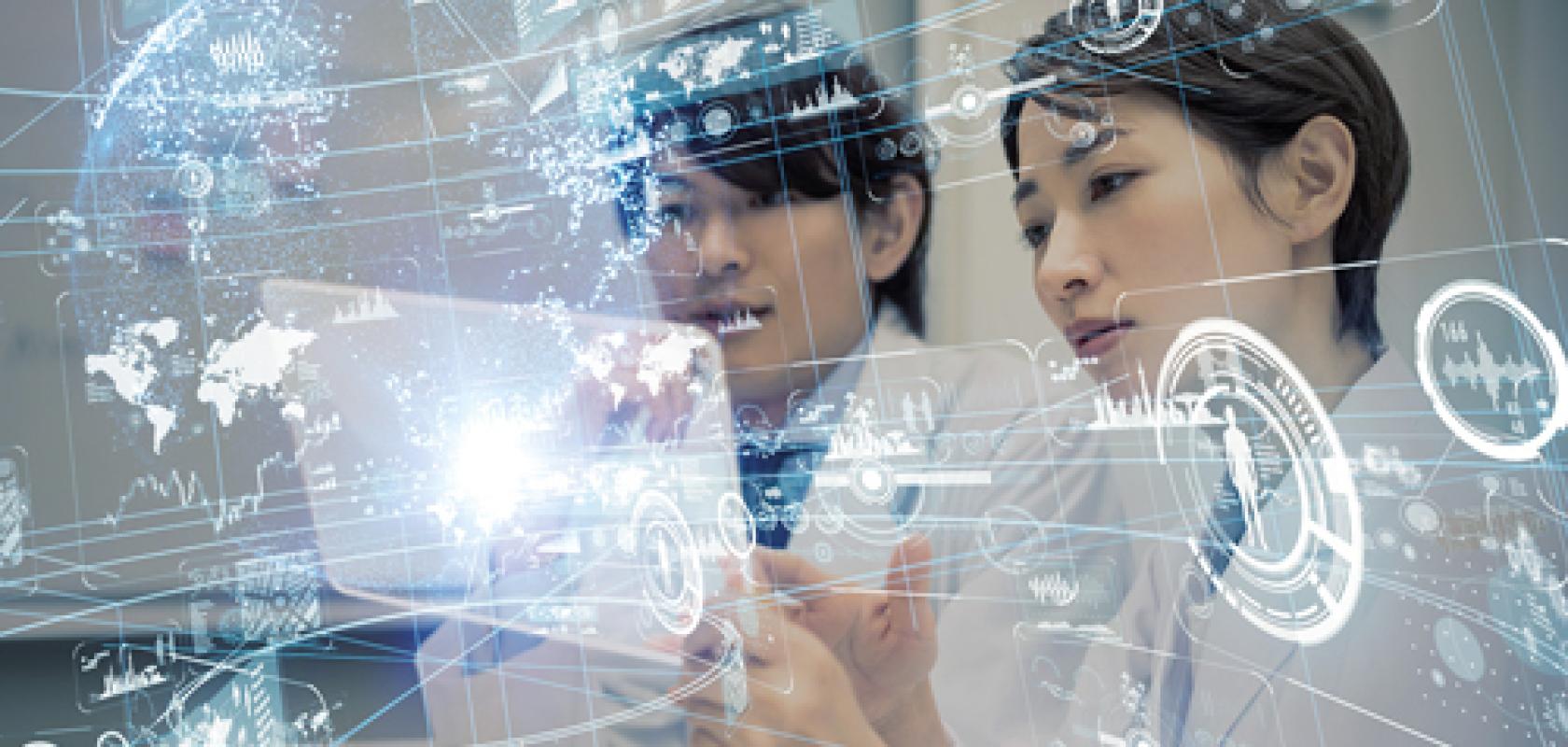 Estimates suggest that the global laboratory informatics market, valued at $2.6 billion in 2019, will witness CAGR of 7.5 per cent over the next five years, reaching $3.8 billion in 2024[1]. And while it's a market that is still dominated by on-premise models of deployment, cloud-based solutions are expected to witness the highest growth rate.
Domainex is a UK-based integrated drug discovery contract research organisation (CRO) offering services spanning medicinal and computational chemistry, protein expression and crystallography, cell-based and biochemical assay development. Working with clients across the industrial pharmaceutical, and biotech, and academic sectors, Domainex' informatics infrastructure sits on Dotmatics' cloud-hosted database, installed in 2018, and now includes additional biology- and chemistry-specific Dotmatics modules.
'Ours is a very competitive market, and we have to be able to find ways of differentiating ourselves with regard to offering services that give our clients an advantage, as well as maximising our efficiency and flexibility,' commented Mark Stewart, chemistry team leader. 'Dotmatics' cloud informatics ELN and focused functionality allows us to have that competitive edge.'
Dotmatics offers scalable, fully integrated scientific informatics solutions to diverse global markets including the pharmaceutical, biotechnology, food and beverage, oil and gas, and agrochemical industries and related academia. Available as local or cloud-hosted solutions, the firm's portfolio includes its flagship ELN, and platforms for chemistry and biologics database and screening management, small molecule/biologics discovery, chemical and biological registration, structure activity relationship (SAR) analysis, reporting, and visualisation, and collaborative research. 
Compound database management, accessibility and security are central to Domainex' day-to-day operation, so the Dotmatics' solutions were an ideal fit for a company that, as Stewart noted, has the philosophy: 'every compound counts.' 'That means that when we are designing compounds and working with clients it is critical to have all the data at hand, both internally to make more informed decisions about the next design iterations, and also so that we can speed and maximise information depth and flow to our clients.'
Domainex wasn't unusual in that it originally set up the Dotmatics solution on site, rather than in the cloud. That was back in 2013. 'At that time there was still a reluctance to trust data in a cloud environment,' Stewart noted. 'Because we are a client-based organisation, security of third-party data was a particular concern, and we originally built the platform in-house, where we felt more comfortable with our own security arrangements.'
Last year Domainex decided that times had changed, and a solution in-house was no longer the best solution. Problems became critical when one of the Domainex staff who had key knowledge of the locally hosted system left the company, commented Ray Boffey, Domainex deputy head of chemistry. 'One of our team who had been integral to building and customising the database on the Linux-based Dotmatics platform left Domainex, and took a lot of knowledge with him.'
The installation had involved significant customisation, and loss of this one individual translated to problems when it came to upgrading the platform. 'The upgrades didn't work as they should have,' Boffey admitted. 'Domainex tried to move from a Linux system to a Windows platform internally, but that wasn't workable either. 'These key issues prompted us to start looking at the cloud about two years ago – people were changing their opinions on cloud-hosted database access by then – and we also realised that there would be major benefits in terms of time and cost when upgrading.'
During the last few years the historical preference for self-hosting informatics packages had shifted, not just within Domainex, Boffey added. 'Companies were looking seriously at transferring across to SaaS. For Domainex moving to the cloud became something of an imperative, not least to keep the software always available and always current,' he added. 'With the on-premises platform there would be periods during upgrade when the database was unavailable to scientists. We then had to back up all of the data, install the newer version on a virtual machine and run all the tests to make sure it was working properly. It was becoming a very time-consuming problem. Now the database is held in the cloud upgrading is much easier and far quicker.'
Moving to the cloud also made it much easier for Dotmatics to fine-tune the database to Domainex' requirements, so the outcome was far more than an out-of-the-box piece of software that needed time-consuming configuration and customization. Holding data in the cloud also adds extra safety in the event of floods or fires, etc, Boffey noted. 'Data in the cloud is always backed up, and is available wherever our scientists need to access it, in its entirety and in real time.'
There are few, if any negatives, Stewart commented, and the two that might have been a concern have proven inconsequential. 'It's simpler than we expected to remove data from the database. We just have to get a support ticket and Dotmatics can usually sort out any unwanted data on the system within a day.' The second potential issue was lack of speed, he added. 'Data retrieval is really fast on a self-hosted system, and we were concerned that speed in the cloud would be compromised, but in reality there is very small time lag for data retrieval from the cloud, and on a day-to-day basis it's not noticeable.'
The Dotmatics solutions Domainex currently uses are Browser, Studies, Studies Notebook, Inventory manager, Vortex, Nucleus, Register, Elemental Cloud and Pinpoint. The Domainex team review additional modules to assess the company's evolving requirements. From a productivity point of view all the scientists have access to all the data in the lab and on their desks. Inputting data into the chemistry ELN in the lab means that no data is left behind.
Cloud-hosted solutions make it possible for Domainex to pass functional benefits on directly to some of its own clients, including virtual biotechs who may not have a significant IT infrastructure, Stewart explained. 'We can host their data for them so that they can piggyback onto our system and access their data through us.'
Domainex has also linked the cloud ELN with its own compound health and safety knowledgebase. 'We can assess all of the risks and hazards of every compound in the database directly because that health and safety data is automatically brought up into the database alongside the compound,' said Boffey. 'The database is linked to all of our standard operating procedures and codes of practice that might be relevant, so that scientists know about any hazards associated with a particular chemical. As soon as a new compound is put onto the database it is centrally held, and all associated data, including safety data, is also immediately available.'
Domainex is also the first company to implement Microsoft Azure login for accessing the Dotmatics cloud system. Its IT provider, Syplex, has worked with both Domainex and Dotmatics to implement this functionality. The upshot is that Domainex users don't have to generate a dedicated Dotmatics login username and password, they can use their existing Windows credentials to get into the database. Now that this has been successfully implemented, lessons learned will be disseminated to the Dotmatics user community.
Like many modern companies, Domainex has adopted cloud computing using Microsoft's Office 365 platform. One of the services under the hood of O365 is Azure Active Directory, Microsoft's cloud directory service provider, Boffey further explained. Azure AD makes it possible to automatically authenticate other third party cloud services like the Dotmatics cloud system against Azure AD using SAML (Security Assertion Markup Language). 'If Domainex choose to, we could also utilise Azure AD's multi factor authentication techniques such as SMS or App based identity confirmation.'
 'Employees are expected to remember complex passwords for an ever growing number of products,' the Domainex team noted. Syplex recommends integrating as many services with one trusted central directory service provider wherever possible. 'This has the added bonus of password compliance over many systems that may be difficult to control and less user frustration with fewer tickets requesting password reset's for forgotten passwords.'
The bottom line is that the cloud offers speed, ease and completeness of access and data availability. 'It's the power of having all of your data at your fingertips. You're not having to root around for files held in different locations. Scientists in the laboratory, or in face-to-face or teleconferenced client meetings can access the database on the fly and make more informed choices on the next iteration of compounds,' Boffey concluded.
The benefits of cloud solutions offered as SaaS are manifold, and include seamless scalability, fast implementation and configuration, lower capital investment, and anywhere, anytime, anyhow accessibility, concurs Wesley Childs, senior director of engineering at IDBS, which offers its E-WorkBook Cloud platform to diverse global industries. The SaaS model also represents a lifeline for some smaller startup, virtual and VC-funded companies, giving them the chance to install an optimised informatics architecture that is backed by vendor maintenance and the security of the major global giants such as Amazon Web Services (AWS), Microsoft Azure, and Google Cloud.
'Cloud-hosted platforms allow companies to focus time and resources on key scientific projects and business applications, rather than on managing their IT infrastructure,' Childs said. 'Whether you are a small VC-backed biotech or a mid-to-large tier pharma, embarking on an on-premise deployment, with the need to purchase, rack, stack and configure multiple servers, can equate to a 6-12 month engagement period, high capital outlay, and a large IT presence for configuration and ongoing maintenance and upgrades.'
For some of the smaller companies that engagement period can represent both a considerable proportion of their lifespan, and an unsupportable drain on financial resources. 'With cloud deployment we can get our customers up and running in a couple of weeks. Moving to SaaS frees up IT teams to move over to high value projects, and lets the scientists concentrate on being scientists.'
When considering a cloud-based data management infrastructure, companies still have security uppermost in their minds, but are also looking for solutions that will differentiate them and their capabilities from their competitors, and give them maximum insight from their research and results, he explained. 'Customers similarly expect improved performance and availability. How does the cloud-hosted software perform in different global sites, and how can you ensure maximum uptime? We would expect that the SaaS platform has demonstrated improved performance than a locally hosted system, and is easier to configure. From an end user point of view it should be business as usual, always available, and always performing. From an IT point of view there is one less tool to maintain, upgrade and back up.'
It all boils down to time to value, he continued. 'With a SaaS platform, whether it be an ELN or a finance platform, that time to value is shortened, because the software availability is expedited. And compared with an on-premise system, you don't have to negotiate for servers, or train your internal IT team on installation, maintenance, configuration and backup. You just get a URL, username, password details and away you go, which means you can start getting value of that software much faster.'  
Interestingly, the inevitable questions on security have shifted focus, he continued. 'Three years ago every potential customer would ask where we were hosting, and when we explained it was Amazon Web Services, would then want to know about AWS security. Today customers are more confident about AWS security, and their questions are more how we at IDBS manage security. They have got over the hurdle of where their data is going, and that the cloud is secure. They now focus on whether their vendor is secure in the cloud.'
IDBS has gone to great lengths to ensure industry-leading security. The company is ISO 270010-certified, has achieved Service Organization Control (SOC) 2 type 1 certification, and is working towards type 2 certification, which will validate security through continuous monitoring, rather than at a single point in time, Childs pointed out. 'As far as we know, we are the only scientific informatics platform, with an ELN module, offering customers SOC 2 type 1 certification for a cloud-based solution.'
The next challenge for IDBS will be delivering new levels of value to customers. 'That's not a challenge centred on using the software, but about getting new features to customers faster. It's about being compliant in fast-moving, highly regulated environments, whether we are talking about the healthcare, technology or financial markets.' Staying compliant and competitive means upgrading regularly, and this is far easier in the cloud than on premise, Childs noted. 'With agile cloud solutions you can start to automate processes, and when humans aren't involved processes run faster, and more accurately. One of the things about the world of cloud is that we can control every aspect, whereas on premise you have internal regulations and SOPs that will differ between customers, which makes building a solution much harder.'