Managing a laboratory in the cloud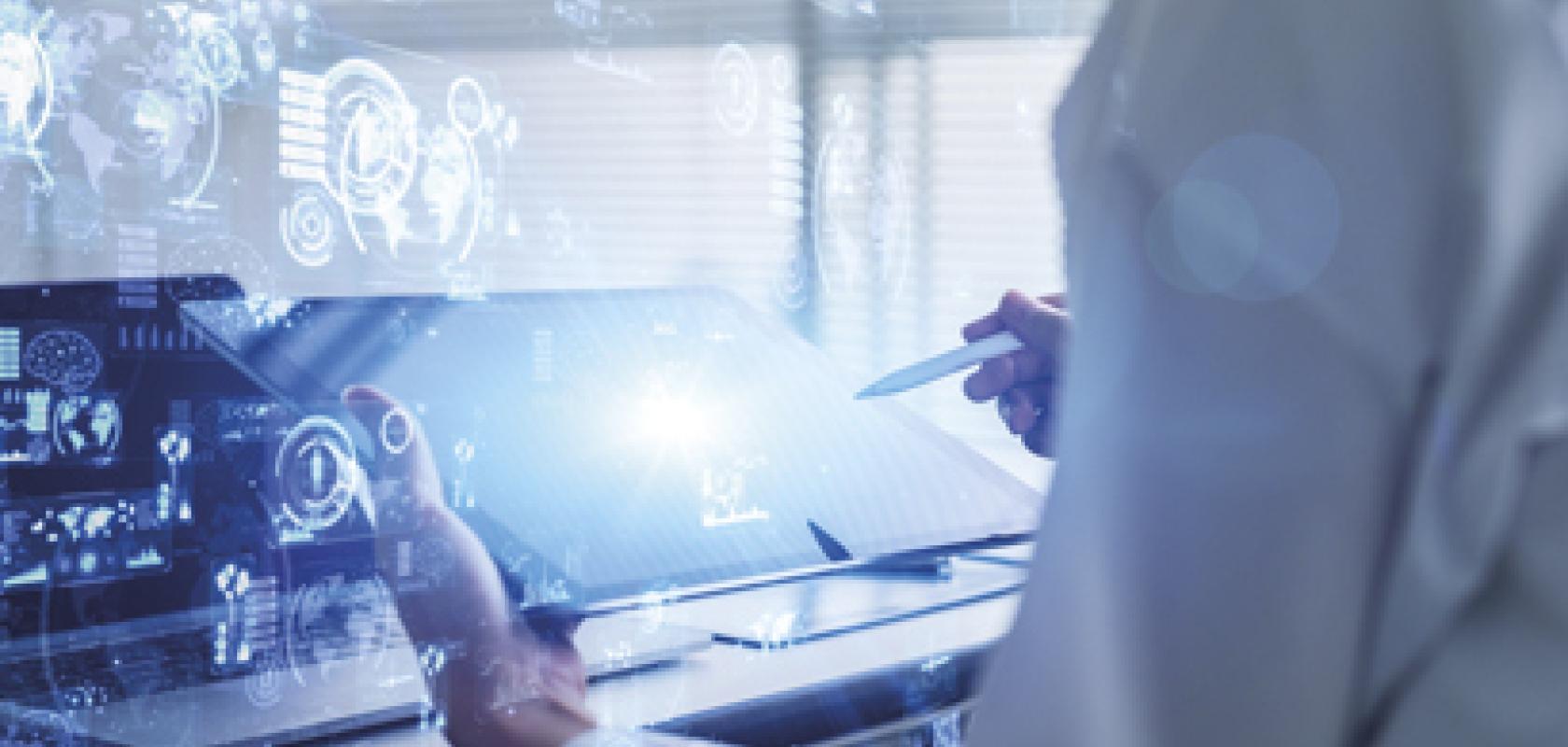 As the market for laboratory automation and sample management software matures there is an increasing propensity for cloud-based solutions. If implemented correctly cloud-based laboratory informatics systems can scale efficiently with business growth and allow lab managers to seamlessly collaborate and share data with organisations or separate lab teams in different geographical areas.
Estimates suggest that the global laboratory informatics market, valued at $2.6 billion in 2019, will witness CAGR of 7.5 per cent over the next five years, reaching $3.8 billion in 2024[1]. And while it's a market that is still dominated by on-premise models of deployment, cloud-based solutions are expected to witness the highest growth rate.
Domainex is a UK-based integrated drug discovery contract research organisation (CRO) offering services spanning medicinal and computational chemistry, protein expression and crystallography, cell-based and biochemical assay development. Working with clients across the industrial pharmaceutical, biotech and academic sectors, Domainex' informatics infrastructure sits on Dotmatics' cloud-hosted database, installed in 2018, and now includes additional biology- and chemistry-specific Dotmatics modules.
'Ours is a very competitive market, and we have to be able to find ways of differentiating ourselves with regard to offering services that give our clients an advantage, as well as maximising our efficiency and flexibility,' commented Mark Stewart, chemistry team leader. 'Dotmatics' cloud informatics ELN and focused functionality allows us to have a competitive edge.'
Improving competitiveness
Compound database management, accessibility and security are central to Domainex' day-to-day operations, so the Dotmatics' solutions fit the company well.
As Stewart noted, Domainex has the philosophy: 'every compound counts.' 'That means that when we are designing compounds and working with clients it is critical to have all the data at hand, both internally to make more informed decisions about the next design iterations, and also so that we can speed and maximise information depth and flow to our clients.'
Domainex wasn't unusual in that it originally set up the Dotmatics solution on-site, rather than in the cloud. That was back in 2013. 'At that time there was still a reluctance to trust data in a cloud environment,' Stewart noted. 'Because we are a client-based organisation, the security of third-party data was a particular concern, and we originally built the platform in-house, where we felt more comfortable with our own security arrangements.'
Last year Domainex decided that times had changed, and a solution in-house was no longer the best solution. Problems became critical when one of the Domainex staff who had key knowledge of the locally hosted system left the company, commented Ray Boffey, Domainex deputy head of chemistry. 'One of our team who had been integral to building and customising the database on the Linux-based Dotmatics platform left Domainex, and took a lot of knowledge with him.'
The installation had involved significant customisation, and loss of this one individual translated to problems when it came to upgrading the platform. 'The upgrades didn't work as they should have,' Boffey admitted. 'Domainex tried to move from a Linux system to a Windows platform internally, but that wasn't workable either. 'These key issues prompted us to start looking at the cloud about two years ago – people were changing their opinions on cloud-hosted database access by then – and we also realised that there would be major benefits in terms of time and cost when upgrading.'
During the last few years the historical preference for self-hosting informatics packages had shifted, not just within Domainex, Boffey added. 'Companies were looking seriously at transferring across to SaaS. For Domainex moving to the cloud became something of an imperative, not least to keep the software always available and always current,' he added.
'With the on-premises platform, there would be periods during the upgrade when the database was unavailable to scientists. We then had to back up all of the data, install the newer version on a virtual machine and run all the tests to make sure it was working properly. It was becoming a very time-consuming problem. Now the database is held in the cloud upgrading is much easier and far quicker.'
Moving to the cloud also made it much easier for Dotmatics to fine-tune the database to Domainex' requirements, so the outcome was far more than an out-of-the-box piece of software that needed time-consuming configuration and customisation. Holding data in the cloud also adds extra safety in the event of floods or fires, etc, Boffey noted. 'Data in the cloud is always backed up, and is available wherever our scientists need to access it, in its entirety and in real time.'
There are few, if any negatives, Stewart commented, and the two that might have been a concern have proven inconsequential. 'It's simpler than we expected to remove data from the database. We just have to get a support ticket and Dotmatics can usually sort out any unwanted data on the system within a day.' The second potential issue was lack of speed, he added.
'Data retrieval is really fast on a self-hosted system, and we were concerned that speed in the cloud would be compromised, but in reality, there is very small time lag for data retrieval from the cloud, on a day-to-day basis it's not noticeable.'
Cloud-hosted solutions make it possible for Domainex to pass functional benefits on directly to some of its own clients, including virtual biotechs who may not have a significant IT infrastructure, Stewart explained. 'We can host their data for them so that they can piggyback onto our system and access their data through us.'
Domainex is also the first company to implement Microsoft Azure login for accessing the Dotmatics cloud system. Its IT provider, Syplex, has worked with both Domainex and Dotmatics to implement this functionality. The upshot is that Domainex users don't have to generate a dedicated Dotmatics login username and password, they can use their existing Windows credentials to get into the database. Now that this has been successfully implemented, lessons learned will be disseminated to the Dotmatics user community.
The benefits of cloud systems
Like many modern companies, Domainex has adopted cloud computing using Microsoft's Office 365 platform. One of the services under the hood of O365 is Azure Active Directory, Microsoft's cloud directory service provider, Boffey further explained.
Azure AD makes it possible to automatically authenticate other third-party cloud services like the Dotmatics cloud system against Azure AD using SAML (Security Assertion Markup Language).
'If Domainex choose to, we could also utilise Azure AD's multi-factor authentication techniques such as SMS or App-based identity confirmation.'
The bottom line is that the cloud offers speed, ease and completeness of access and data availability. 'It's the power of having all of your data at your fingertips. You're not having to root around for files held in different locations. Scientists in the laboratory, or in face-to-face or teleconferenced client meetings can access the database on the fly and make more informed choices on the next iteration of compounds,' Boffey concluded.
'Cloud-hosted platforms allow companies to focus time and resources on key scientific projects and business applications, rather than on managing their IT infrastructure,' Childs said.
'Whether you are a small VC-backed biotech or a mid-to-large tier pharma, embarking on an on-premise deployment, with the need to purchase, rack, stack and configure multiple servers, can equate to a 6- to 12-month engagement period, high capital outlay, and a large IT presence for configuration and ongoing maintenance and upgrades,' Childs added.
For smaller companies that engagement period can represent both a considerable proportion of their lifespan and an unsupportable drain on financial resources. 'With cloud deployment, we can get our customers up and running in a couple of weeks. Moving to SaaS frees up IT teams to move over to high-value projects, and lets the scientists concentrate on being scientists,' stated Childs.
The inevitable questions on security have shifted focus, said Childs. 'Three years ago every customer would ask where we were hosting, and when we explained it was Amazon Web Services, would then want to know about AWS security. Today customers are more confident about AWS security, and their questions are more how we at IDBS manage security. They have got over the hurdle of where their data is going, and that the cloud is secure. They now focus on whether their vendor is secure in the cloud.'