Smart solutions for environmental testing
Keeping the environment clean requires hundreds of thousands of tests and sophisticated data handling, as Sophia Ktori discovers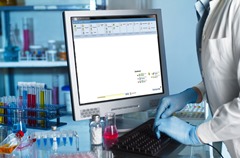 Talk to any contract environmental testing laboratory, water utility company or industrial plant that monitors its emissions and effluent, and the conversation will at some point likely hover over a universal challenge. That is: how to track, manage, and audit the scheduling, collection, multi-analyte testing and data reporting of potentially hundreds of thousands of water, air and soil samples every year, taken from multiple sites. This challenge is compounded by a stringent environmental regulatory framework that sets tightly defined limits on contaminants and impurities in drinking water, wastewater, and industrial emissions. Together with the requirement to report to the regulator, and the need to implement remedial action swiftly when contaminants exceed legal limits, these challenges create an underlying need for the environmental testing laboratory to analyse data quickly and efficiently.
This regulatory framework must underpin any informatics system implemented within the environmental testing sector, explains Jeanne Mensingh, co-founder and president of Houston-based Labtopia, which provides quality-system advisory, training and consultancy services to industries regulated by the FDA and EPA – including the pharmaceutical, food and beverage, medical device, water and environmental sectors. 'One of the biggest issues for these sectors is quality-system implementation, which sets the stage for achieving compliance.'
Labtopia's divisions include an Informatix business that offers turnkey solutions for laboratories that need to achieve compliance with ISO 17025 or national regulatory requirements (e.g. NELAC). 'The one major piece of advice I would give any company looking to implement a new informatics system is to look first at what you want to achieve and what your true requirements are, rather than start by looking at what's available in the marketplace,' Mensingh comments.
Priorities and wish list
'Go through every process and define the current business workflow, prioritise your current bottlenecks, inefficiencies/insufficiencies, and identify areas that struggle to meet compliance. Then, draw up an ultimate wish-list. What are your existing issues? What are your QC requirements and how can they be met? Are you looking to go paperless? Can you realistically expect to interface your system with laboratory instrumentation straight away, or will this have to wait for a second or third phase of implementation? It's human nature to jump in with both feet and get side-tracked by vendor hype, when in reality what you need to do is look at, and focus on, your requirements. It may be that the primary goal is something as simple as sample tracking or data entry.'
Laboratory information management systems (LIMS), for example, tend to be very data-driven, but environmental testing should be compliance-driven, Mensingh continues. 'Look at whether you have sufficient methods in place to evaluate and report on method or instrument detection limits, instrument maintenance/calibration, training, sample tracking and measurement traceability. Extend this review to personnel. Are your analysts certified? Who will be using the system? How will training and software support be effected to ensure that compliance is met from the human perspective?' 
LIMS for high-volume, 
regulated sectors

Autoscribe Informatics specialises in the development of database management applications, including LIMS and quality-management systems. The firm's clients include clean water providers and wastewater companies, along with contract environmental testing laboratories. Autoscribe's flagship Matrix Gemini LIMS platform is a desktop and web-based platform that has been developed to meet the task of sample tracking, management and data reporting in these high-volume, regulated sectors, claims Troy Losey, vice president of operations: 'The biggest differentiator of software for environmental testing, compared with manufacturing or quality control, is the need to track all sample bottles in the collection. For these industries in particular, the compounds being tested may be present in minute amounts, down to parts per billion, so each analytical run will test multiple samples collected from the same place at the same time-point, to include control, replicate, and duplicate analyses for quality control of both the samples and the instrumentation.'
Matrix Gemini will automatically schedule sample collection, and the platform can also generate test-run lists that are exported to the analytical instrument to tell the hardware which sample is in which position in the instrumentation, and then import the results coming out of the test run back into the LIMS. 'This minimises hands-on time and reduces the need to input data manually. It's a flexible system that also makes it easy to incorporate changes in regulatory requirements for testing, such as the addition of new analytes, modifications to the maximum/minimum levels of impurities, or generating a set of tests specific to individual clients.' The LIMS will in addition flag samples that exceed or are close to exceeding accepted contaminant or impurity levels. Event triggers, or rules-based actions, will automatically schedule the collection of additional samples for retesting.
Another key feature of the Matrix Gemini platform is FDA-level auditing. An event log records even the most basic activities, such as signing into and out of the system, or registering a sample, and there is an audit trail for each sample, its accompanying data, and any changes made to sample records or results. All these features are designed to facilitate regulatory compliance, and provide a user-friendly platform for data management, analysis and retrieval. 'The user interface can provide a graphical representation of the progress of a sample through the laboratory, by clicking on a selected step in the workflow diagram. Multiple workflow interfaces can be used and they can be individually adapted to suit varying work practices within the laboratory.' 
The same, but different

This ability to customise Matrix Gemini to the requirements of each client is a key differentiating feature. Each customer can define screen and menu designs, use their preferred terminology and workflows, and create specific tables or modules. 'When you look at the contract environmental testing sector, for example, even though two laboratories may be carrying out exactly the same suites of tests for very similar clients, they will have very different approaches when it comes to the design of workflows, test-run protocols, results submission, and reporting back to clients.' This means the LIMS architecture must be flexible, and easily integrated into the lab's existing informatics systems.
'Our system can pull data from any outside data-source into the LIMS, and export data back into the same, or different data-source. The system will also automatically generate client reports that include only those data that have been requested, even though a test run will have carried out a full suite of analyses. An electronic data-deliverable, or EDD, is also generated automatically as a file that can be imported into the client's own database. Similarly, Matrix Gemini has job quotation and invoicing flexibility that can be customised for each client, reducing administration time further.' 
Water companies under pressure

The water industry has to negotiate particular regulatory challenges associated with the provision of safe drinking water to millions of consumers from multiple supply points, and the treatment of waste water coming back from both domestic and industrial users, points out Colin Thurston, Thermo Fisher Scientific's director of product strategy, process industries. 'The pressure is particularly high because regulators, such as the Drinking Water Inspectorate (DWI) in the UK and Environmental Protection Agency (EPA) in the US, can slap multimillion dollar fines on water providers if compliance is breached.'
Northern Ireland Water, for example, is a government-owned company that supplies both clean water and sewerage services to all of Northern Ireland's 1.7 million people, Thurston continues. The company outputs 625 million litres of clean water every day and treats 134 million cubic metres of wastewater each year.
Prior to implementing Thermo Fisher's SampleManager LIMS in 2002, each of the 150,000 samples taken for analysis annually were processed manually. The enterprise-wide LIMS now in place at NI Water automates each workflow, providing full sample tracking from the point of collection to arrival at the laboratory, custody chain transparency and flexible reporting capabilities, down to the automated scheduling of sample collection according to predefined sampling plans held within the LIMS.
'Samplers are instructed where and when to take water samples, and the mobile PDA units they use in the field geotag and date-stamp every sample collected, and record data from tests carried out on site that is fed back into the LIMS remotely,' Thurston explains.
'Importantly, the LIMS is scalable, can be tailored to different project specifications and workflows and modified to encompass changes in regulations. Data taken from multiple testing laboratories and contracted samplers can be integrated into the platform without the need for custom coding, and the LIMS platform automatically schedules and provides a workflow for any ad hoc sampling and testing.' 
Investigative and remedial action

At NI Water, the Thermo Fisher LIMS is interfaced with laboratory instrumentation and the organisation's existing informatics infrastructure, and with each site's process information management system (PIMS). 'The combined platform can also trigger the initiation and direction of predefined investigative and incident-management procedures, in the event that samples fail at testing,' Thurston states. 'To achieve this level of interface, the client provides a detailed outline of all the procedures that need to be carried out if water samples exceed limits of contaminants or impurities, and we build these workflows into the LIMS software so that managers are notified, and all relevant personnel, from the sample collectors to the laboratory staff and plant engineers, are instructed on investigative and remedial actions.'
Statistical analyses can also be used to detect upward trends in levels of contaminants or impurities at a regular water sampling point, and raise an alert before acceptable levels are exceeded. 'The SampleManager LIMS generates a visual geographical map of each GPS-determined sampling point marked by an icon,' says Thurston. 'Trend data generated from the statistical analysis of experimental data will trigger the icons to indicate when levels of impurities in samples from any point are on the rise, even if they are still within regulatory limits. Once you have this information, you can drill down into the underlying test data to work out the probable cause and put corrective measures in place.' 
Data capture and analysis

The wastewater treatment industry is faced with an array of variable conditions that impact its ability to process and treat incoming waste streams effectively, explains Steve Bolton, marketing programmes manager at QA/QC Informatics. Variables can include the rate of wastewater generation by the population, the constituents within the waste stream (levels of zinc, cadmium, nitrogen and heavy metals), biochemical oxygen demand (BOD), chemical oxygen demand (COD), and pH.
Operators must monitor these variables constantly and adjust their treatment processes accordingly, but in a paper-based environment, accurately capturing and then analysing the data can be a time-consuming and challenging process. PerkinElmer's iLAB Laboratory Execution System (LES) and TIBCO Spotfire data-visualisation and analysis software can work together to provide the real time data capture and analysis to meet these demands. 'iLAB LES provides a structured platform for test-execution and data-capture that eliminates paper, while automating and controlling testing procedures,' Bolton claims.
'In the wastewater treatment plant, data points can be captured by iLAB LES worksheets that replace traditional paper worksheets. These worksheets can integrate with instrumentation and control the execution of tests to ensure that data is accurately collected and recorded to the iLAB database. TIBCO Spotfire can connect directly to the iLAB database for real time monitoring, visualisation and analysis of the data collected by iLAB LES. Reports can be created quickly and easily and published online to share with others.' The automation of sample tracking, data capture, reporting, and full auditing capabilities were key requirements for Narragansett Bay Commission, which over the past year has installed PerkinElmer's iLAB LES at its wastewater treatment facility in Providence (RI).
'With our legacy system, field samplers had to document each collection using pen and paper, and when the samples were passed to the laboratory the data had to be entered into the system manually,' explains Kathy Smith, programme manager/DBA. 'Using the iLAB ELN, and iPads with scanners, and the capability for remote data transfer, each piece of information, from the identity of each sample collector, to the data taken at the field and even the progress of transport back to the laboratory, is automatically logged in real time.'
Becoming a paperless lab

Having established PerkinElmer's LabWorks LIMS a year before taking iLAB on board, the Providence plant is transitioning into a paperless laboratory environment. 'It's a fairly new system for us, but we are very much on the road to eliminating the need for paper,' Smith suggests. 'Generating and storing analytical results and generating reports are carried out using iLAB and LabWorks, and relevant data are stored in SharePoint and imported into documents as required.'
This integration and automation of data collection, storage, and retrieval means that all submission forms and logs – for example inventory logs or autoclave logs – are retained on iLAB. This also aids audits. 'Our system has been set up such that relevant data from one log can be exported into a downstream log, and each has bidirectional links that will pull up relevant information for a particular sample,' Smith points out. 'This makes auditing seamless and removes the need to search for particular data, if an auditor wants to see each log for a particular sample.'
Similarly, the LabWorks system includes links to standard operating procedures (SOPs). 'We are also in the process of setting up the ability to produce a certificate of analysis for each sample of a different type, say, industrial waste. We are required to provide a certificate of analysis, and this process is now completely automated. This means that there is an attachment of all the links for each report, and each certificate of analysis, which is emailed to all relevant personnel for review. There's also a link to the submission forms so that these don't have to be searched for separately.' 
Flag up deviating samples

UK-based AIS supplies its LIMS platform to clients in the water industry, but its primary customers are laboratories carrying out contract analysis on soil and groundwater from building and landfill sites where the land may be contaminated. AIS cofounder Mike Bertenshaw points out that a major challenge for environmental laboratories is the ability to flag deviating samples, i.e. those that don't fulfil strict sampling rules required of the industry, such as inappropriate sample containers, missing sampling dates, exceeded time between sampling and extraction, etc. AIS LIMS has been designed to address this by recording key dates/times and container details. 'AIS LIMS can be configured to a broad range of applications, and we have addressed some of the specific requirements of environmental laboratories,' Dr Bertenshaw states. 'For example, we detect automatically when a sample has to be addressed as a leachate instead of a soil, and we also distinguish between water and leachate tests when a water sample is analysed. The AQC module which is used to monitor quality standards as the results are entered can also be used to monitor analytes from specific sites over a time period to show if there is an underlying trend of contamination in the water table.'
AIS LIMS incorporates a range of end-user configuration tools, along with bespoke quotation and invoicing modules for commercial laboratories. 'We also offer a web-based reporting system to enable samples, results and PDF certificates to be accessed securely by the end users. Results and sample details can also be downloaded as Excel files.' Document-management capabilities are provided within the LIMS application, so that any paperwork, reports and images associated with samples or instruments can be recorded and retained with the database for ease of access and traceability. 
Future directions

AIS LIMS also provides export templates for moving data across from one database to another. Big data storage is no longer a limiting factor for these types of laboratories, but we find that many of our environmental clients export their data to other databases,' Bertenshaw continues. 'LIMS in the future will need to provide a route where sample/results data are accessible in very different formats.'
Integrating new technologies into an informatics architecture is another challenge for the future, Labtopia's Jeanne Mensingh adds. 'Also, we are seeing a move away from the traditional IT infrastructure, towards subscription to software-as-a-service (SaaS) solutions for managing informatics needs. This trend to hosted services is going to impact all aspects of data management within industry over the coming years. The focus will be on how we move our data around and contract out our IT services, rather than how we store it and manage it in-house.'