Chinese Government kicks commercial companies overseas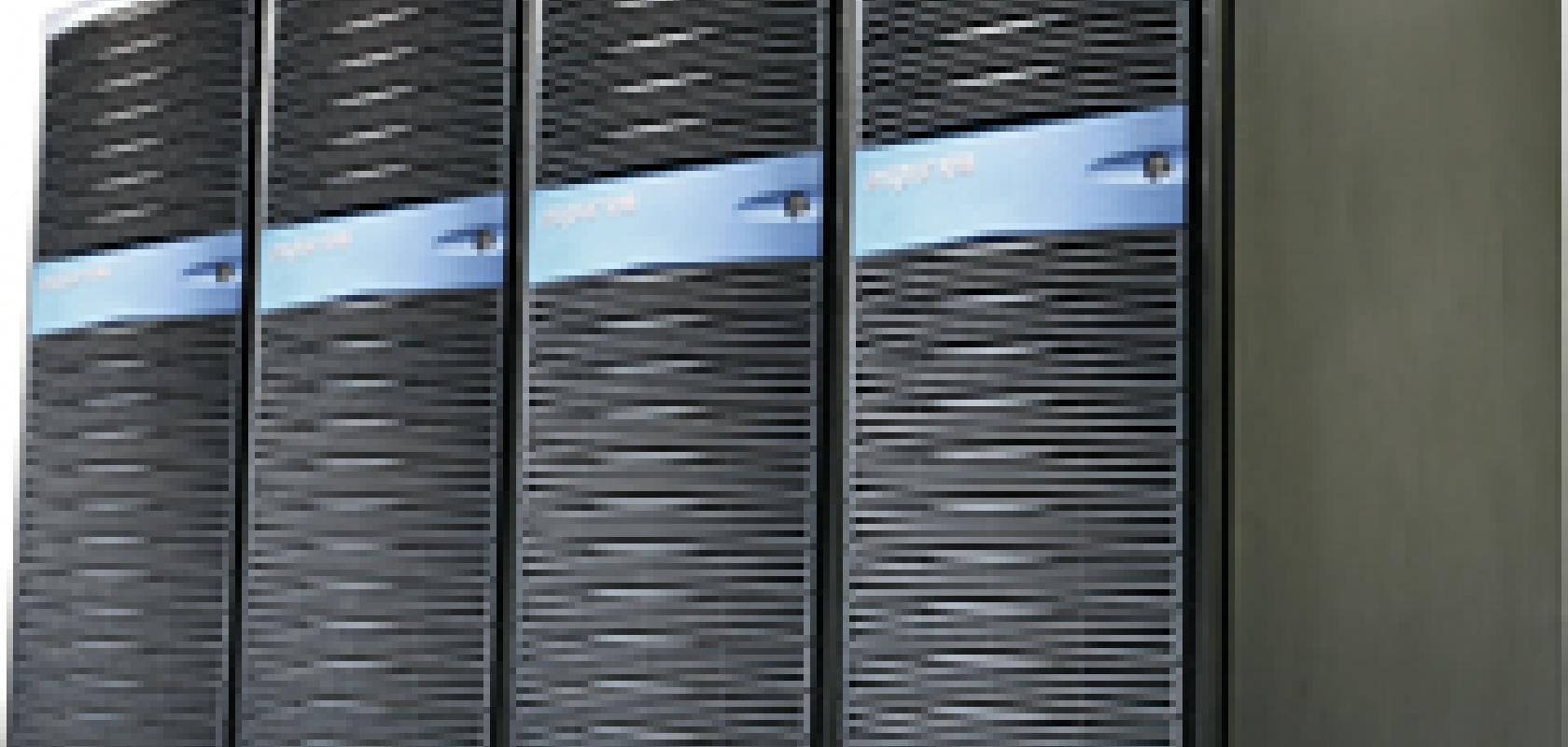 Big data, cloud computing, and the servers to run the internet, are all targets in an export drive by Chinese supercomputing manufacturers whose ambitions reach far beyond China and beyond high-performance computing.
In an interview with Scientific Computing World at the ISC High Performance Conference in Frankfurt in July, Inspur was keen to promote its 'SmartRack' line of high-density, low-power consumption, modularised rack servers. It was, according to Xiaoyang Niu, product manager of Inspur's server product department, the leader in the rack server market in China. Significantly, the SmartRack is oriented to massive storage and suitable for cloud resources pools and big data processing.
The company clearly sees such technology as enabling it to expand into non-Chinese markets. Niu cited findings from the US market research company IDC highlighting the rapid growth of data centres and increased demand for servers. However, the data centre operators face major issues, he continued: power consumption; floorspace/footprint; and the problem of managing different types of servers within one data centre. 'We are working with the Chinese internet companies to provide them with solutions which resolve all three issues,' he said.
Inspur expects to build on this domestic expertise in reaching out to export markets with a range that includes a single rack with liquid cooling, and several designs of air cooling. 'Because we have obtained 40 per cent of the market share of Chinese internet companies, we are going to go with them as they expand overseas,' Niu said. Unlike Google, for example, the Chinese internet giants Alibaba and Baidu have not developed their own servers and Inspur is needed for its services as much as its hardware, he believes – although the hardware demand will be considerable: Alibaba will deploy half a million servers over the next three years.
He sees Lenovo as its major competitor in the domestic market, but overseas 'it's a brand new market with lots of opportunities.'
According to Niu, the company is now on the fourth generation of SmartRack products, having started development in 2011. A distinctive feature of the design that was on display was that it has large 140mm fans which can dissipate much more heat (with less noise) under the same power consumption. Inspur claims it has a power conversion efficiency of over 94 per cent, making it more than 10 per cent lower in terms of power consumption compared to other designs.
Strategy for export expansion
Inspur already has customers in 85 countries or regions and branch offices in 26 countries, together with R&D centres in the USA and Japan, as well as China. It is now seeking further expansion with a four-stranded strategy.
It will be seeking local partnerships with resellers – local channel distributors. It will be developing an OEM business, where it sells hardware but integrators and other companies add their own value and services and put their own label on the hardware. It is also aiming to extend its provision of servers for the Chinese internet companies and follow their overseas expansion. Finally, it expects support from the Chinese Government will lead to international trade deals.
In addition to its own R&D centre, already established in San Jose, Inspur plans to build a manufacturing centre in the USA for the 'SmartRack' products. In the USA, its focus will be on SAP, OCP, AWS, Microsoft and other internet companies and cloud service companies. But it will also be seeking SME clients via channel sellers.
Inspur has become a highly diversified group of companies. In the summer of 2014 for example, it set up Inspur Americas in Colorado to build the company's presence, not in commercial computers, but in providing set-top boxes and other digital home media solutions in the North and South American markets.
In Europe, Inspur is particularly interested in business opportunities in Germany and Britain, among the data centre and cloud computing providers. It is also building a sales channel for targeting Government, telecoms, and finance in Russia.
Sugon opens up for international expansion
'We're ready. It's time.' International expansion is the next step for Sugon, according to its vice-president Lei Wang, in an interview with Scientific Computing World in Frankfurt. 'We should not consider ourselves a local Chinese vendor any more. We have confidence in our products and in our business.'
But to be successful, he continued; the company must transform itself: 'We can see that we need to open ourselves up'. And it will not just sell its products, but invest overseas as well, forging partnerships and setting up an HPC centre. According to Wang, the purpose of such a centre is not just to showcase the company's technology, but also to train engineers and show that it can offer support that is level with that expected in developed countries. Sugon's expansion strategy, therefore, is two-fold: 'Open and Invest'.
The confidence in the company and its products shines through: 'We are the leading local vendor in China and have been number one in HPC for six years consecutively. We see a lot of competitors benefiting from the international market. Technically, our products are mature enough to do that too,' he said.
Government kicks its companies to export
Like Inspur, Sugon acknowledges the role of the Chinese Government in supporting its export drive, expressed with a light touch of humour: 'The Government is helping local vendors to grow and "go outside" – kicking us out is Government policy!' Sugon was floated on the Shanghai stock exchange in 2014, though the Government via the Chinese Academy of Sciences remains the largest shareholder.
With the benefit of its years of technical expertise in the field of high-performance computing, Dawning is gradually changing within China from a hardware supplier to a cloud computing service provider. It has been involved in planning the layout of the national cloud computing 'blue map' and has built up dozens of city cloud computing centres, including those in Chengdu, Wuxi, Nanjing, and Baotou. The entire project should be complete within the next three years.
Like Inspur, high-performance computing is only part of the mix for Sugon. It offers a 'total solution' including public and private clouds, services, infrastructure and platform as a service (IAAS and PAAS), servers and storage. Its Tianjin manufacturing facility is the largest server factory in Asia.
According to Dr Bin Li, vice-manager of the company's HPC products division, it can offer a complete range of compute nodes and servers for HPC, with Mellanox interconnects. The company has developed its own distributed parallel storage system, ParaStor200. It also has its own integrated software for system management and job scheduling, Gridview HPC Suite.
The system management aspect offers visualisation of the computing centre, monitoring of the cluster, performance analysis – with a 'heat map' to display node status and performance intuitively making it easy to find bottlenecks as well as idle resources – and one-click cluster configuration. The scheduling side offers policies for job scheduling, checkpointing/restart, as well as real-time monitoring of jobs and resources, along with accountancy modules to set rates flexibly for users groups and take account of software licences.
Sugon's path to exascale
In 2015, it started mass manufacture of its own design of liquid-cooled blades. These are being used in a new 'Earth system simulator', part of a project launched by the Chinese Academy of Sciences, and which Sugon was promoting on its stand at ISC High Performance.
The simulator will have both a HPC and a visualisation platform and is intended to produce short term climate predictions and forecast air quality in key regions of China. The system design is that of a 'Silicon Cube' which consists of many liquid-cooled blades connected up into supernodes and then integrated into cabinets called 'Cubes'. A distinctive aspect of the design is the 3D Torus interconnection network. Sugon sees the Silicon Cube architecture as its pathway to exascale computing.
About the author
Dr Tom Wilkie is the editor for Scientific Computing World. 
You can contact him at tom.wilkie@europascience.com. 
Find us on Twitter at @SCWmagazine.