Ansoft
26 March 2008
Ansoft Corporation has released both Maxwell v12 and RMxprt v12.
27 February 2008
Ansoft has released Q3D Extractor v8, the latest version of the company's 3D parasitic extraction software.
Latest issue
A roundup of software tools available to scientists using HPC and AI software
Scientists and researchers are using AI to help accelerate the discovery of new drugs for a wide variety of different medical applications.
Integrators and cloud providers help facilitate access to HPC and deliver additional expertise and support, which helps scientists to effectively use computing resources, finds Robert Roe
Today's DNA sequencing technologies now make it possible to sequence whole human genomes cost effectively and with speed.
The world of MultiBody Dynamics simulation is changing, writes Gemma Church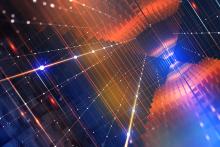 Quantum technology is going through a period of rapid development, with several technologies driving the adoption of this emerging computing framework, finds Robert Roe
A roundup of cloud technology providers that support researchers using HPC