Ohio Supercomputer Center launches GPU cluster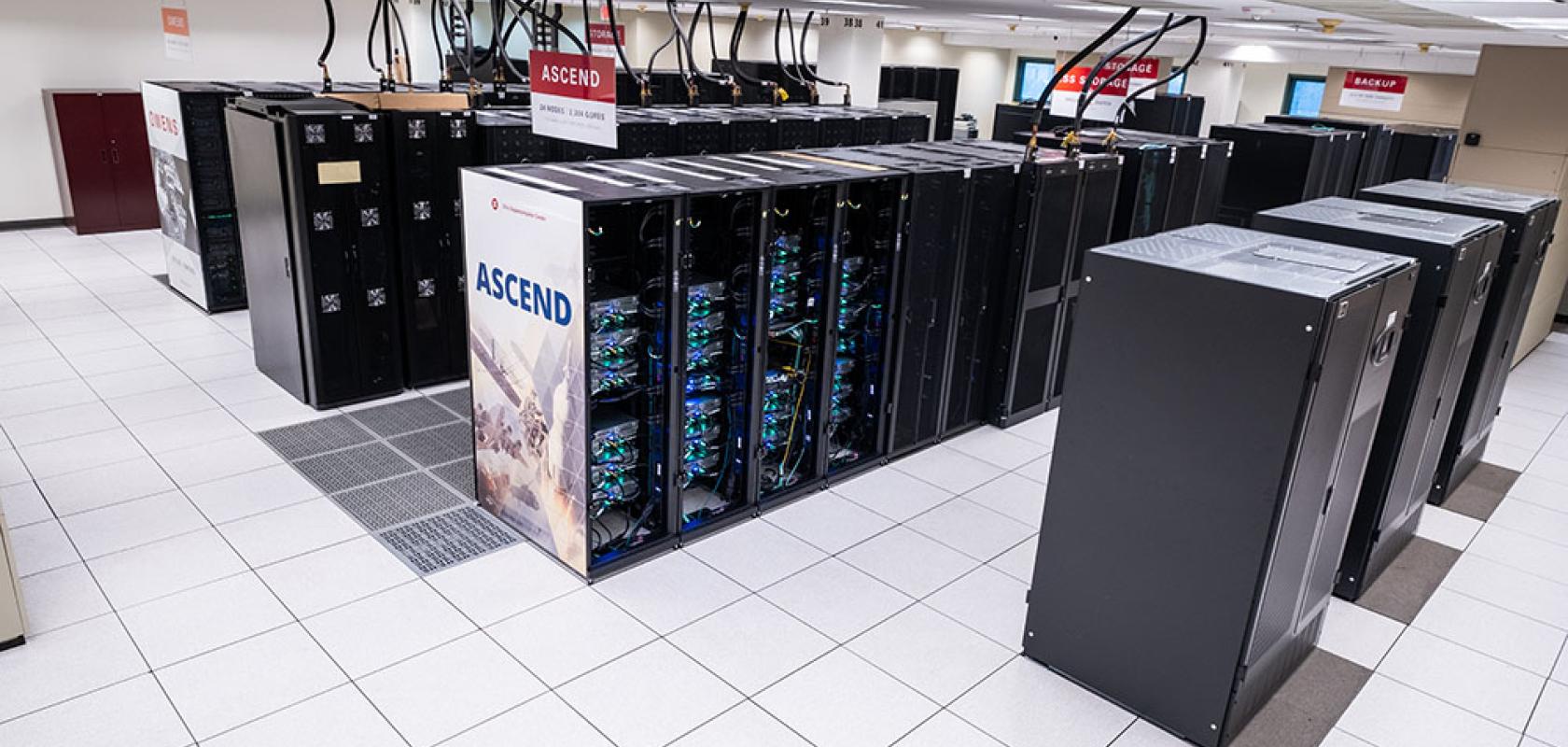 The Ohio Supercomputer Center (OSC) has officially launched Ascend, its new high performance computing (HPC) cluster designed to accommodate the growth of client work in the areas of artificial intelligence (AI), data analytics and machine learning.
Academic and commercial clients may now request time on the Dell Technologies-based cluster, which complements the computing power of OSC's existing Pitzer and Owens clusters. Ascend is OSC's first-ever dedicated graphics processing unit (GPU) platform, which features advanced NVIDIA GPUs.
David Hudak, executive director of OSC states: "OSC developed Ascend in response to discussions with our client community, stakeholders and vendors, who identified an immediate need for greater GPU resources to process research and simulations that rely on AI, big data and machine learning. We are pleased to be able to offer this major new resource to the HPC community and support client advancements in academic research and commercial technologies."
Comprised of Dell PowerEdge servers with 48 AMD EPYC CPUs and 96 NVIDIA A100 80GB Tensor Core GPUs supercharged by NVIDIA NVLink and interconnected by the NVIDIA Quantum 200Gb/s InfiniBand platform, Ascend triples OSC's capacity for AI, modelling and simulation and adds 2 petaflops of peak, theoretical performance. The Pitzer and Owens clusters have current capabilities of 5.5 petaflops, more than 20 petabytes of disk storage capacity and more than 23 petabytes of expandable backup storage.
Although Ascend is smaller than the Pitzer and Owens clusters, with just 24 compute nodes, "its peak performance is on par with all of the other systems, and that's mainly because of the performance that the GPUs add to these nodes," said Doug Johnson, OSC associate director.
The Ascend cluster allows clients to quickly move data externally through 25 Gbps Ethernet network interfaces and internally using NVIDIA's Quantum platform with in-network computing capabilities, Johnson said.
"OSC's client services and scientific applications teams will be available to help our clients determine if their applications can make good use of the Ascend GPUs," Johnson said. "For some applications there is a large performance benefit for using the GPUs and Ascend will make it possible for our clients to tackle some problems that can't be solved on our current systems."
OSC tested Ascend from late October to mid-December with a select group of clients to review the performance of the system and solicit feedback from users.
"Part of the goal of the early-user period was to get a better understanding of how the user applications make use of the GPUs that we are supporting in the system," Johnson added. "We will continue to improve the software and management of the system as we learn more from what we encounter supporting the early users and operating the system for a longer period of time."
Yu Su, an assistant professor in the Department of Computer Science and Engineering at The Ohio State University, used Ascend during the early testing period for several research projects in the area of natural language processing. Ascend's NVIDIA GPUs allowed Su to use BLOOM-176B, one of the largest neural network models, for the first time on OSC's systems.
"Multiple other projects—ranging from question answering over large knowledge bases to knowledge-based reasoning and language interfaces to relational databases—in my group have been benefiting from the NVIDIA A100 GPUs on Ascend," Su said. "Students have reported double to triple the speed of processing compared with the A6000 GPU servers my group has."
Bargeen Turzo, a graduate student in the Steffen Lindert computational chemistry group at Ohio State, found that Ascend could more quickly process jobs that predicted protein complex structures than the Pitzer cluster could.
"For some large proteins I was not even able to get a single prediction on Pitzer after running the calculation for multiple weeks," said Turzo. "While on Ascend the same calculation finished in 12 hours."
Ascend follows the same pricing structure as the Owens and Pitzer clusters. More information about Ascend's hardware, software environment, file systems, batch specifics and connection details can be found on the Ascend cluster page of the OSC site.
In addition to launching Ascend, OSC is in the planning stages of developing a high performance computing cluster that will replace its Owens cluster, slated for launch in 2023. The new cluster will initially run concurrently with Owens and complement Pitzer and Ascend.