The social engineering network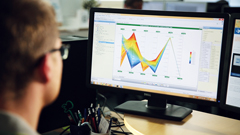 Company profile: Gemma Church talks to engineering software house Esteco about simulations evolving into strategic decisions for companies and creating a social network for engineers
Esteco wants to free engineers from the shackles of the increasingly complex design process. Its technology promises to take away the tedious aspects of engineering design, so that its users can focus on product innovation, not endless iterations of their simulations.
Advanced simulation is a standard methodology for companies who crave the competitive edge that modelling and simulation tools provide through their cost savings and reduced time to market. As the design process increases in complexity for such companies, they need to adopt a multidisciplinary approach to incorporate the large number of variables, objectives and iterations that engineers and R&D teams must now juggle and optimise.
This is where Esteco steps in with its promise to increase creativity by developing and maintaining software that allows for integration, optimisation and advanced data analysis. Carlo Poloni, president of Esteco, told Scientific Computing World: 'The main aim of our company is the same now as it was when we set up the business: to make the design process as fast and as accurate as possible.' 'This goal, to optimise the design process, remains the same – but our methodologies have changed over the years,' he added.
This is the cornerstone of Esteco's success – its ability to evolve and future-proof its software to meet the needs of an increasingly diverse set of customers. The company is heavily involved in the traditional engineering sectors, such as aerospace and automotive, but its 250-strong client base also includes businesses in industries such as the energy sector and home appliances market.
These customers can choose from two core sets of software, or bundle both of them together. First of all, there is modeFRONTIER, which takes a multidisciplinary approach to design simulation.
It is aimed at designers who are required to simultaneously consider multiple perspectives to determine the optimal solution to a design problem while balancing increasingly complex issues. modeFRONTIER is structured around an easy-to-use graphical user interface and promises to streamline the design process by combining objectives relating to variables within different disciplines.
This is achieved through its powerful workflow, which allows the execution of complex chains of design optimisation. Innovative algorithms combine opposing objectives to determine the best set of possible solutions to the issue in hand. It also has a host of post-processing tools for users to perform further statistical analysis, data visualisation and decision making.
It became clear that the process-focused methodology of modeFRONTIER alone would not resolve all of the issues that design and R&D teams face, so Esteco developed a second software offering. Poloni explained: 'We began to recognise that users in design departments needed to exchange more information – not just in paper form but through their software models as well. They needed something to enable and optimise the high level of collaboration needed during the design simulation process – not just the optimisation of the simulation process itself.'
This is where Esteco's SOMO software came into being. It sits at the enterprise level to provide a distributed collaboration framework to manage the complexity of running multidisciplinary design products.
SOMO allows design teams to share simulation and optimisation data as well as models and strategies via a common shared repository that can be accessed anywhere, anytime on any device via a web browser or private network. This streamlines and speeds up the design cycle and helps to bring together the large, geographically diverse and multidisciplinary design teams that many companies now use to design and develop their products.
This has enabled a shift in the thinking about simulations for such companies. Poloni said: 'It opens up global parameters so users can not only optimise their models on the component and system level, but they can expand their work so that the decision-making process becomes strategic.'
'In other words, the simulation becomes part of the strategic decision of a company,' he added.
Esteco offers both the modeFRONTIER and SOMO systems as a bundle, known as the Esteco Enterprise Suite (EES). This offering essentially extends the modeFRONTIER desktop paradigm to a web-based collaborative environment where design teams can share their models, workflows, simulations, optimisations and results.
This combination of an overarching enterprise level and grassroots development level approach is a savvy decision that pulls together the industry need for effective collaboration with the requirement from the design teams to pool multiple competencies and skills to optimise the design process.
A social network for engineers
Collaboration will continue to be a key theme for Esteco in the future. Poloni said: 'In the past, customers ran several simulations on HPC systems and their work remained in the confines of their team or department. Now we are seeing a shift to social components, sharing of information and, effectively, a social network for engineers and designers to do their work better.'
'This involves the sharing of information between departments, companies and the sharing of information without limits. This will not happen overnight as it involves a huge shift in culture,' he added.
This could end with an even greater shift in the culture of the engineering world, where the customer sits at the heart of the collaboration and design process, as Poloni added: 'If we extrapolate further into the future, design decisions made by managers today may be made by clients or the end-users in the future. In other words, the job may be closer to the buyer of the solution than the company working on that solution.'
Such high-level collaboration may be 'within the confines of science fiction', Poloni concludes, but with the continuing adoption of collaborative software across the corporate and consumer environment and tightening security protocols, it could soon become a reality.