Founded in 1989 and privately owned, IDBS is a leading provider of advanced software solutions for the drug discovery industry.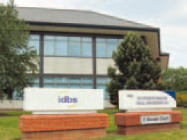 Company history
Founded in 1989 and privately owned, IDBS is a leading provider of advanced software solutions for the drug discovery industry. ActivityBase, its flagship product, was released in 1994 and is now the industry standard solution for managing biological and chemical discovery data.
In 2003 IDBS received the Queen's Award for innovation and international trade and also became the first vendor in the drug discovery data management sector to receive the International Standards Organisation's ISO 9001:2000 and TickIT certifications.
IDBS is now a worldwide software solutions provider with an established industry reputation. Its product range has grown to form an integrated suite of multiple solutions that enable scientists to capture, store, share and use their research data.
IDBS' Professional Services provide deployment, consulting, training and customer support, while IDBS applications are used at more than 200 leading discovery research companies globally, including 75 per cent of the world's top pharmaceutical and biotechnology companies.
Product portfolio overview
The E-WorkBook Suite offers secure storage, comprehensive analysis and flexible reporting in a fully compliant, 21 CFR Part 11 validated environment, and features the configurable science-neutral electronic lab notebook (ELN) E-WorkBook, the complex biological data management solution BioBook and the chemically-intelligent data management tool ChemBook.
Offering secure, consistent, accessible and integrated data management, the ActivityBase Suite includes ActivityBase, a biological and chemical data management solution for high throughput screening (HTS), secondary screening and complex in vitro assays. ActivityBase Xtended Edition (ActivityBase XE) supports HTS, high content screening (HCS) and multiplex screening. SARview offers intuitive and flexible SAR reporting, querying and analysis.
The Decision Support Suite delivers powerful analysis tools and complete data integration, including PredictionBase, a predictive mathematical modelling toolkit, XLfit, an automated curve fitting and statistical analysis tool that works within Microsoft Excel and ActivityMart, a flexible data mart designed specifically for life science data.
Future plans
IDBS will continue to innovate to ensure its data management tools provide the 'best of breed solution' across the research spectrum, specifically focusing on leading the market in the area of extensible ELNs. IDBS plans to advance its ELN technology to extend the to apply across multiple research disciplines, initially focusing on chemistry and biology.
IDBS is continuing to grow and is moving towards being the sole vendor to truly offer a single framework to support the needs of the operational areas of an entire organisation, within one controlled environment. IDBS' mission is to deliver better data sharing, greater accessibility and improved decision making to all researchers.
Distributors
CTC, Japan and Eastwin, China