Sophia Ktori speaks to laboratory informatics experts about the development of Laboratory Information Management SYSTEM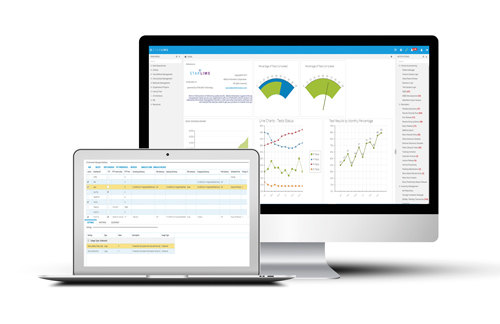 LIMS, or laboratory information management system, has traditionally referred to a specific, but fundamental piece of lab software, explains Andrew Lemon, CEO at The Edge Software. 'Ultimately, it is designed to manage samples, provide chain of custody for samples, tests and results on those samples, manage scheduling, and keep data safe.'
LIMS developers have historically focused on software that does these activities well, and increasingly at the larger scale – think of the number of samples in today's biobanks, for example, Lemon suggests – although not at the real-world 'big data' scale and complexity of something like a national health service or credit card data management system, he adds.
Over more recent decades, and especially with the advent of -omics technologies and biologic drugs R&D and manufacturing, developers have focused on providing LIMS functionality that is far more adaptable and flexible to cope both with less structured, but also far more complex workflows and data. 'We still need that common functionality of managing samples and testing workflows, ensuring full traceability, data safety and integrity, and flagging up any out of specification results,' Lemon notes.
Versatility and flexibility
Scientists are continually developing new types of assays for an increasingly wide range of sample types. 'So today's LIMS must be versatile and flexible to fit in with basic scientific discoveries and resulting analytical workflows. Our customers are, in addition, expecting seamless support for their workflows, both as part of cross-department and laboratory internal practices, but also as part of multi-organisational teamwork that comes with partnering and outsourcing. So we have been implementing support for working with collaborators, third parties or licensees, for example. Using a web-based platform facilitates this integration with other systems across organisational boundaries.'
The Edge Software has developed its BioRails platform to combine LIMS, Electronic Notebook (ELN), inventory and data analytics functionality, and is evolving the platform to become even more workflow-oriented, rather than focused on the sample. This will make it easier for customers to use the software when working with outsourcing partners such as contract research organisations (CROs). 'A LIMS may be used in an R&D, contract testing or manufacturing QA/QC environment that is dealing with biopharmaceuticals, medical devices, and animal testing, as well as small molecules,' Lemon notes.
'There are far more sample 'types' today. You need a platform that can be flexible enough to cope with different entities and with these changing workflows. Labs may have to track cell lines and data-heavy gene expression results, for example.' The fundamental concept of tracking a sample and what's done to that sample remains, but the actuality of what may be required in terms of the complexity of how that is applied to samples is now far more challenging and requires greater adaptability in the LIMS.
Configurable and adaptable
'We can consider three approaches to software development,' Lemon continues. 'Develop a very generic platform that can be applied to all situations, and you will provide the basics for everything. Alternatively, you can build in specialist functionality for specific disciplines, which gives customers focused understanding and capabilities. The third approach is to build a configurable platform that can be adapted to the needs of each laboratory.'
It's this third approach that The Edge has taken. 'We have focused on areas of development and discovery, including DMPK and formulations. While the software is a fully functioning LIMS, it also has pre-configured workflows for specific disciplines. We adapt it to customers specifics, and they can pick it up, fine tune and roll it out very quickly.'
Other areas of active, customer-driven R&D at The Edge include the ability to integrate analytical data, say, a mass spectrometry spectrum, into the results. 'We are also working on building functionality into our BioRails package that will offer logistics planning and other key operational tools help to manage and optimise laboratory operation. The LIMS can effectively help to coordinate inventory, and manage machine time, laboratory space and personnel, so that the right people are available at the right time, and expensive equipment doesn't sit idle.'
A high-end LIMS can thus build a lot of value in the laboratory, but it's also important to appreciate that customers don't want to have frequent large-scale upgrade issues. 'We try and keep our major upgrades to once every three years,' Lemon notes. 'Then we may put out turnkey upgrades about once a year, so the system is continually evolving in response to customer feedback and as the complexity of laboratory functions changes with new scientific developments.'
The foundation of all LIMS
All LIMS packages should provide support for day-to-day working processes and give labs the confidence that they are recording the right information, that the controls and checks are all in place to meet regulatory requirements, and that data integrity is maintained, comments Simon Wood, product manager at Autoscribe Informatics.
'Configured optimally for the lab, a LIMS will track samples, schedule test runs and handle results data, put a block on assay runs being carried out by unqualified personnel, or those whose training is not up to date, and prevent the use of equipment that hasn't been maintained or calibrated according to schedule. The basic level of functionality you need should be fundamental to all LIMS, from the ability to register samples, create runsheets for instruments, assess results against multiple different limits, and derive optimum QA/QC workflows. Many labs take all this for granted, but in effect a LIMS is a vital tool that represents a key part of the overall laboratory and business supply chain.'
How a LIMS is evolved over time by its developers will largely depend on what the customers are calling for as workflows change, and complexity increases. Sometimes, even small improvements and upgrades can make a difference to a laboratory's operational efficiency, Wood suggests. 'Our Matrix Gemini LIMS software has always offered QA runsheet functionality, but we have recently put in place improvements to facilitate organising controls and standards, for example.' The next iteration, due for release later this year, will feature additional upgrades to runsheet capabilities in response to customer requests, 'which will make the software even more user-friendly,' he adds.
The most recent Matrix Gemini release also features Container View, a data visualisation tool that can work for any kind of storage, from 96 well plates or racks of trays in liquid nitrogen, to biobanks or cabinets containing solvent supplies, Wood explains. 'Container View gives users an intuitive way to visualise the data relating to their laboratory storage with hierarchical context. Its about presenting information in a way that the user can immediately connect with.'
Working out of the lab
Container management gives labs the ability to view this type of data in different ways, but its still the same data, and is still in the lab, Wood comments. Autoscribe has also been partnering with industries such as dairy producers, to take the LIMS out of the lab. 'Working with these customers, we have demonstrated how LIMS can be used for more end-to-end traceability and management that goes beyond test data. For the dairy industry we can configure the LIMS to track the origins of raw milk, and register and track when tankers arrive at processing plants, monitor which batches of milk – from which dairy farms – are stored in which silos, and then follow pasteurisation and onward transport and processing, even down to tanker and silo cleaning records and, of course, milk and product sampling for routine testing.'
It's a highly complex process web, which traditionally may have involved multiple tracking methods, but which can be monitored and tracked by a single configurable LIMS. 'You effectively have an integrated manufacturing and QA system, with all the information required in one place, on one screen, from which you can access all the data.'
The assumption that labs will exploit the full range of LIMS capabilities also isn't a given, Wood continues. 'When talking to customers we not infrequently find that they may be using only a small proportion of the LIMS functionality. In some cases this may be because they don't need it, but in many others a reluctance to make full use of LIMS functionality is because the labs don't want to spend the time and effort changing their existing practices. 'That's a dangerous attitude,' he suggests, 'because just as software vendors are always looking to improve products for their customers, labs should also be continually reviewing their processes and procedures, to see how they can improve their operation. A modern LIMS should play a major role in improving efficiency and productivity.'
The amount of data that is being generated in clinical, as well as manufacturing and R&D laboratories across industries has paralleled the rapid evolution of data storage and management hardware and software, suggests Mahalingam Swaminathan, head of global R&D informatics, at Abbott Informatics. The limitations associated with housing that data have largely disappeared as we have progressed from punch tapes to magnetic tapes, floppy discs, CDs, hard drives, USB and now cloud.
A shift to global enterprise solutions
So how is this relevant to LIMS? It's mandating a shift towards global enterprise solutions, Swaminathan comments. 'A decade ago LIMS was function-centric. You would have a local LIMS in your lab. That model doesn't work any more. Data is now global. Many organisations are set up as global operations that run multiple types of software and databases, and a local LIMS is no longer sufficient.' So, from a data-centric LIMS model a decade ago, developers have migrated towards system integration, and a workflow-centric infrastructure. It's no longer enough to have compliance or QC as standalone functionality, rather these functions have to be tied to the workflow and processes that are used in the lab, and to robust analytics.
'There has also been a shift in expected data analytics capabilities,' he comments. 'Today's analytics still primarily look at what happened three months ago and what could we have done to stop it, but there is a big move to predictive analytics, so, what is likely to happen three months from now and what can we do now to prevent it?' Customers are also expecting cloud-ready solutions, better connectivity across all systems, improved automation, and more intuitive user experiences. 'Ultimately that's our goal, and what we strive to provide for our customers.'
Abbott takes a structured approach to product development that combines the activities of its R&D organisation and commercial product management organisation. The structured process for investigating and developing new functionality involves four basic activities. Firstly, the firm talks with customers to find out what industry wants and needs, and secondly it monitors trends in regulations, from cybersecurity requirements to quality standards. 'We are also continually investigating how to incorporate new technologies, such as artificial intelligence and machine learning, or blockchain, for example, into the LIMS ecosystem.' The fourth push is in house innovation, Swaminathan continues. 'In fact, there are two types of innovation. Market-driven innovation comes up with market-derived answers and solutions to market needs. For example, developing miniature bottles of Coke, when customers say the regular cans are too big and they need something smaller. In contrast, Moonshot innovation is when the customer doesn't actually know what the solution is. An example is multi-touch capabilities on our smartphones.'
Swaminathan says these four elements underpin Abbott's LIMS development programmes for its STARLIMS technology platform, and its industry-dedicated vertical software packages. The integrated STARLIMS solution encompasses LIMS, scientific data management system (SDMS), electronic laboratory notebook (ELN), together with advanced analytics, mobile and cloud services.
During just the last quarter of 2018 the firm launched STARLIMS Solution CL 11.0 as the latest version of its LIMS for the life sciences industry, as well as STARLIMS Quality Manufacturing Solution QM 11.0, and version 11.6 of its STARLIMS LIMS technology platform. The upgrades are all designed to increase flexibility, productivity and efficiency in the lab. 'STARLIMS LIMS 11.6 – which underpins all the offerings – includes a full HTML5 converter for browser independence, together with improved data integration and 64-bit support, and cybersecurity enhancements,' Swaminathan states.
New features of STARLIMS Solution CL 11.0 include 2D barcode accessioning to speed sample order data entry and test requisitioning. Additional planned upgrades to the platform will support complex molecular testing and next generation sequencing (NGS) workflows. The upgraded STARLIMS QM Solution features upgraded trending analytics and process charts, and user-friendly, pre-aided graphical workflows for typical manufacturing, contract laboratory, stability, environmental and testing samples, which can be tailored by the user.