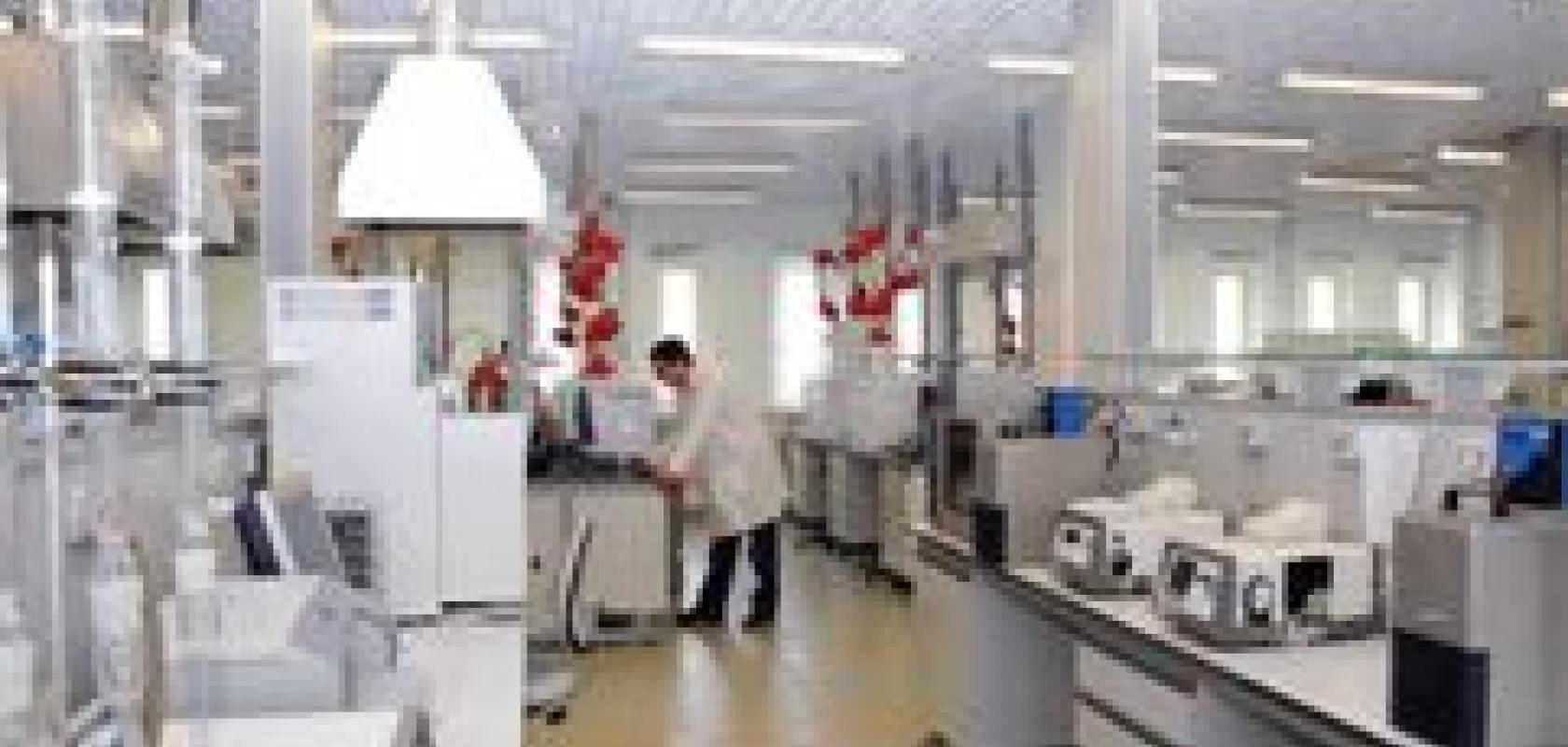 Ever since the mid-1800s when the first North American tycoons struck oil, petroleum has become a vital commodity in modern society. With concerns over dwindling supplies, coupled with an energy-hungry global population, demand for the fuel remains high. Estimates on when so-called 'peak oil' will be reached (the point where global extraction peaks and production goes into decline) varies, with some commentators suggesting this has already happened, while others believe that the theory is flawed, because production is determined by political and economic factors as well as geology. Either way, oil is a finite resource and one that is becoming increasingly difficult to extract from the ground.
According to the Energy Information Association, part of the US Department of Energy, the total world demand for oil in the first quarter of 2009 was 83.19 million barrels per day. In order to meet demand, petrochemical companies aim to maximise production efficiencies, not least in the laboratory, where product analysis is carried out throughout the various stages of extraction and refinement. Data management software can improve efficiencies in laboratory testing, ensuring the lab is not a bottleneck for releasing product.
Carlo Avino, working in the laboratories at Raffineria di Roma, a Total refinery based in Italy, states that, within the laboratory, an effective data management system is essential, because it is the only tool that can streamline the various processes involved. These include sample requests and identification (data management software ensures data handling errors are minimised and work is not repeated), product testing (instrument integration and automatic limit checking are critical part of an effective LIMS), and real time reporting and issue of certificates of analyses.
The laboratories at Raffineria di Roma have been running a laboratory information management system (LIMS) from LIMS supplier, LabWare, for approximately 10 years. The labs are responsible for analysing the incoming oil, performing in-process checks, and analysing the finished product, as well as performing tests on environmental samples.
Russian refinery
The Sakhalin II Project, the world's largest integrated oil and gas project located on Sakhalin Island in the Russian Far East, uses a LIMS to manage the data generated by its laboratories. Laboratory testing for the project is carried out at a central laboratory at the liquefied natural gas (LNG) plant and oil export terminal (OET), as well as at a number of upstream satellite laboratories.
The gas produced at the Sakhalin II Project is drilled from the Lunskoye gas field in the Sea of Okhotsk and transported by pipelines to an onshore production facility (OPF), and then, via an 800km onshore pipeline, to the LNG plant and oil and LNG export terminals. Divided over two liquefaction trains, the LNG plant has a capacity to produce a total of 9.6 million tons of liquefied natural gas.
The responsibilities of the central laboratory are numerous and include analysis of oil, gas, chemicals and wastewater samples from the LNG/OET site, as well as analysis of samples from the OPF. It generates analytical reference data on product quality and custody transfer invoicing, on calibration of online process analysers, on plant performance and equipment condition, as well as data on environmental monitoring. It also provides expert advice on LNG and crude oil sales purchase agreements (SPAs) and plant troubleshooting.
Sakhalin Energy is using Thermo Fisher Scientific SampleManager LIMS to manage the data from the thousands of samples that are required throughout the sampling stages. The data from the facility's equipment, including gas chromatographs, is all directly transferred into LIMS, and SampleManager is tasked with storing and tracking data processed in the laboratory. The LIMS is also used for data trending and analysis, or to identify when product is moving out of specification. The system is also used to interface with critical IT systems, including Sakhalin Energy's corporate energy components package and process information system, for efficient reporting and documentation support.
Since its implementation, LIMS has provided centralised access to data, and the laboratory has seen improved sample turnaround times and improved operational efficiencies. The system also meets the laboratory's need for GLP and ISO 17025 compliance. Sunil Pandya, head of laboratory for Sakhalin Energy, comments: 'Our laboratories have been designed from the ground up to support this site – this project represents the new frontier in oil and gas development and our laboratory needed a LIMS that was proven to be reliable in this environment and dependable for the future of the project.'
At the Sakhalin II Project, LIMS handles the data generated throughout the production process, which is the case with many oil refinery projects, as Colin Thurston, director of product strategy at Thermo Fisher Scientific, points out: 'After the discovery of a well, the oil or gas needs to be characterised. During the production process, the output needs to be monitored for contaminants that may affect the output and quality (e.g. sulphur content, hydrogen content, etc), and lastly during shutdown/clean up of a well, the environment needs to be monitored to ensure that there is no contamination.' All of these stages require laboratory data to optimise the processes of extraction and refining.
Size matters
Avino of Raffineria di Roma notes that the refinery is quite different from many other petrochemical environments, because the production process is always large scale and even smaller refineries need to be properly sized to be competitive. An increasing requirement is the ability to control the production process in a precise manner (online analysers are a typical result of this trend). Data management systems are key in delivering this control to the relevant persons in the organisation.
Petr Svoboda, head of the technical support department at Unipetrol RPA, a Czech petrochemical and agrochemical processing company based in Litvinov, also draws attention to the scale of these processes: 'The volume of processed raw materials and manufactured products is huge, and everything takes place in facilities where operating fills are substantial. Each error in production control leads to lower quality produce and results in economic loss. Thus, great emphasis is placed on the quality and fast response of sample analysis within the laboratory and LIMS is the ideal instrument to analyse this process and to avoid such errors.'
Oil samples undergoing analysis at the QinetiQ Fuels and Lubricants Centre. The centre uses LabWare LIMS to manage its sample data. Image courtesy of David Breach, QinetiQ.
Unipetrol is using Siemens' Simatic IT Unilab LIMS to manage its sampling data. Both in-process analyses for production control and checkout analyses for releasing the end product are carried out. All results from these analyses are stored in LIMS, and the system is the basic operating tool for both production control and quality control of specific products.
In addition to general reporting for each production unit, some sample results are automatically transferred into an historical production database (typically Honeywell PHD). The results are used by production staff for evaluation of the production process, and the system also stores information for other analytical purposes, such as analysis of laboratory workload.
Svoboda says that, in this environment, great emphasis is placed on accuracy, reliability and speed of providing data, as well as on eliminating human error. Data security and archiving is also important.
Within the laboratory, there is a need for cost reductions both in terms of labour and in cutting costs of chemicals and supporting processes (records, calibration, verification, certification, etc.), Svoboda comments. LIMS provides an ideal informative environment and enables optimisation of work in the laboratory.
Svoboda continues that production units are also put under pressure to minimise costs of both energy and raw materials, and that LIMS provides a good environment for conducting necessary analyses in the evaluation of production processes.
R&D and QA practices
Two big areas where LIMS is used within the petrochemical industry, as in many industries, are research and development (R&D) and quality assurance (QA). Tom Curtis, vice president of product innovation at Labtronics, a provider of software solutions for laboratory instrument and system integration, notes that, on the R&D side, investigations are carried out on different formulations of a product. For example, an engine oil formulation will undergo testing for density, viscosity, heavy metal analysis, chromatography studies, etc. 'What these tests represent are: "how has this product stood up over time or under these conditions", "how long do we expect it to stand up under these conditions", and "has it contributed any wear on vehicle components",' he says.
Curtis continues: 'The big thing for QA is to be able to qualify the physical properties of the product and determine whether the parameters being tested are inside or outside of set limits. Given the pressures of trying to get the product out the door, there is increased pressure on the QA labs to quickly turn around and test larger volumes of samples.'
Labtronic's LimsLink software provides a standard interface between all of the instrumentation in a laboratory and the LIMS, or potentially on the QA side, enterprise resource planning (ERP) software.
Quality assurance plays a major role in large-scale petrochemical production, but testing the quality of oil and lubricants used in plant machinery in other industries is also important, as it can reduce costs incurred by equipment failures and other production downtime. QinetiQ Fuels and Lubricants Centre offers a range of oil condition monitoring services that allows its customers to assess the health of their equipment. QinetiQ is using LabWare LIMS to manage its sample data and the laboratory has streamlined its processes into the system wherever possible. The need for paper records has been largely removed and all calculations are performed within the LIMS environment.
David Breach at the QinetiQ centre comments: 'Customers often demand short turnaround times and customised testing procedures, so an efficient laboratory workflow is a key requirement to maintain a high throughput of samples. The LIMS supports each aspect of the testing cycle, from login to report generation, enabling our customers to receive the information they require as soon as it is available.'
Howard Harvey, consultant at UK-based company, IDBS, cites petrochemical R&D activities, such as producing more efficient catalysts for polymer synthesis, as well as exploration and production, as two areas where data management software is required.
IDBS has been working with a major petrochemical company to implement its E-WorkBook suite. E-WorkBook allowed the company to rationalise and consolidate the data in one place and then create reports to visualise the data.
'Bringing the data together in one place aids the decision-making process, but it also constitutes a time saving and an efficiency gain – researchers can clearly see what work has been carried out on a particular project so experiments are not reproduced and knowledge can be shared,' explains Harvey.
In terms of exploration and production, Harvey comments: 'Decision makers need access to the data to determine where best to drill, or to understand how much oil a specific well will yield before having to re-invest.' Being able to generate reports is key in this instance, and the InforSense products, recently acquired by IDBS, provide dashboard technology to visualise the data and generate real time web-based reports.
Future trends
'Current trends in the petrochemical industry are to ensure that the most benefit of data management is derived by connecting all relevant information together within an organisation,' remarks Thurston of Thermo Scientific.
This view is also taken by Svoboda of Unipetrol, who expects greater integration of online analysers interfacing directly with LIMS. This allows faster transmission of information, higher frequency of sampling and the reduction of human error. However, Svoboda warns that with greater integration more emphasis must be placed on checking and maintenance of the equipment to ensure the data generated is accurate.
Steve Bolton, marketing specialist at Labtronics, also feels that there will be greater system integration in the future: 'In terms of data management, we see a shift towards more integrated laboratories.' Currently, he notes that a lot of laboratory systems work in isolation, and there are still a lot of paper-based systems. 'The benefit of eliminating paper-based systems and integrating all software and instrument systems is that a higher level of procedural control and automation can be placed on the processes.'
Avino of Raffineria di Roma remarks on the current situation: 'The production process has shown trends of high automation, and the management systems have been redefined in order to provide "expert" systems that can almost run the plants by themselves, and only need the operator's final check and approval (where and if required) to perform the critical tasks.'
However, he also recognises that, with an increasing interest being levelled at environmental impact, as well as product quality, the expectation is to see a change in management systems in order to provide the environmental footprint of the production process in real time, together with correct estimates and/or simulations of changes in the production processes.