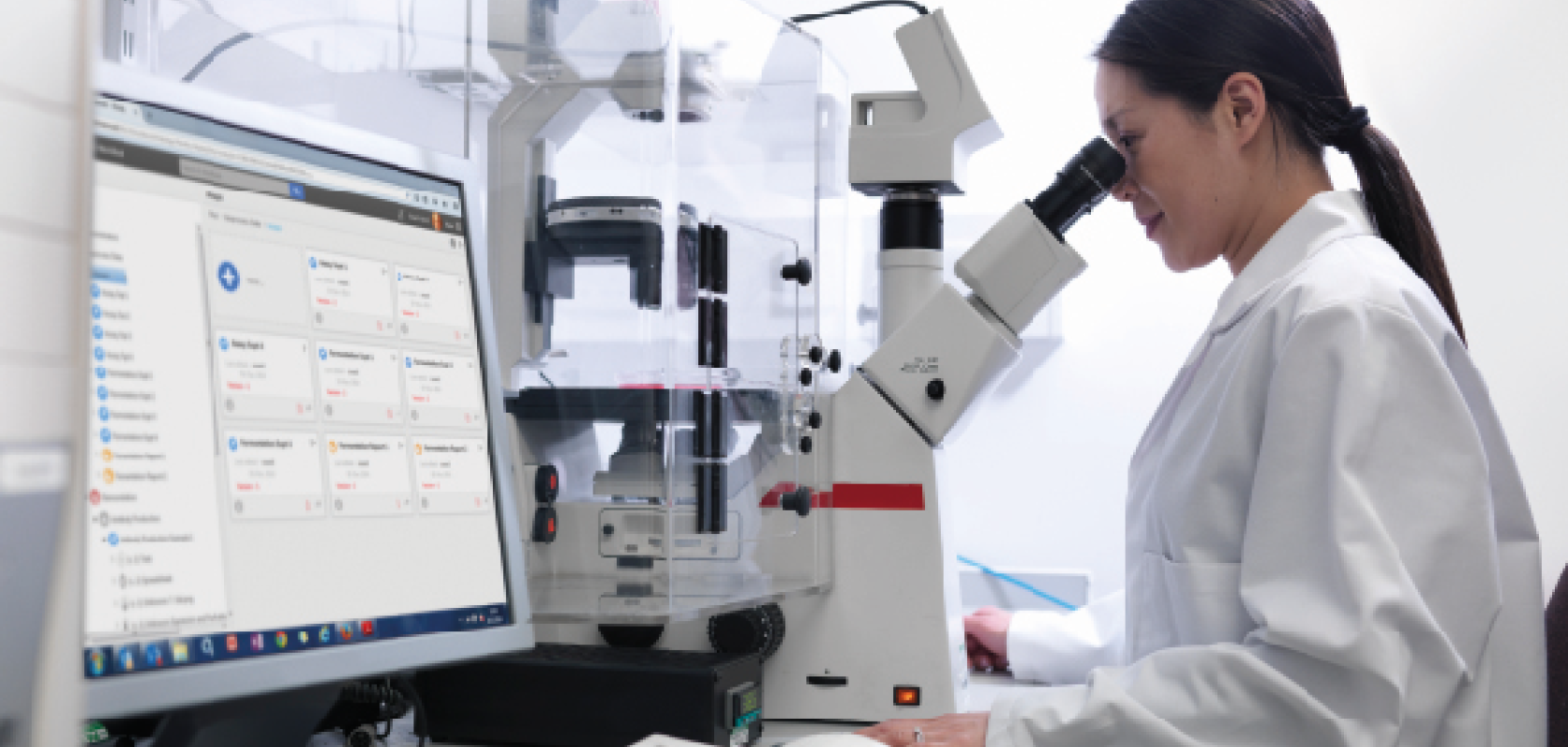 The benefits of building a good working relationship between a LIMS supplier and a contract research organisation (CRO) can't be underestimated, notes Richard Stember, founder and CEO of LABTrack, which has been working closely with CRO Nitto Avecia Pharma Services (Avecia Pharma) and its predecessor for the last 12 years. The regulatory compliant LABTrack LIMS was originally built as a customised system for Avecia Pharma, but was commercialised more widely in 2007.
The LABTrack LIMS system needs to stay relevant to Avecia's expanding global business, which spans the complete range of contract development and manufacturing services for small molecule, oligonucleotide and biologic drugs.  'Scalability and flexibility have been key to meeting Avecia's growing and diversifying workload,' Stember explains. 'The company needs a highly configurable LIMS for working in a GLP environment reliably and defensibly. We developed the solution as a thin client application, so it runs inside a browser, which simplifies implementation.'
Evolution of LIMS technology
The current, fourth release of LABTrack LIMS has been developed to provide functionality that makes the most of the most recent operating systems and browsers. 'The latest user interface has been developed to take advantage of HTML5, and incorporates a spreadsheet-like results entry form, which is pretty much like Excel. This simplifies results entering, including the importation of data directly from instrumentation. HTML4 wouldn't have supported that.'
Version 4 also offers a 'what you see is what you get' (WYSIWYG) environment for defining new entry forms and reports and queries, Stember points out. 'This allows our new customers to evolve the LIMS to manage each new project as it comes in. With version 4 you don't have to hard code new forms in. NET, you can drag and drop fields and lists and create queries to support those forms.'
The LABTrack LIMS is, in addition, highly project orientated. 'It's a key requirement for CROs.' Stember stresses. 'Our software can manage a client-CRO relationship from the point of proposal to the client, even before the purchase order is received. The software then manages and oversees each stage, including analytical testing, peer review, laboratory management review, QC review, and sample administration steps, all within a GLP environment.'
Avecia Pharma has separately installed LABTrack's Stability Study Management System (SSMS), and is in the process of deploying the latter's project management dashboard (PMD), which interfaces directly with existing accounting, ERP, LIMS, CR and ELN systems. 'This will allow the whole organisation to work under one umbrella,' said Nahid Ameri, senior manager, corporate planning at Avecia Pharma. 'Currently, each department has its own system for keeping track of jobs. Having a PMD that interfaces with the LIMS will make every job visible to all authorised personnel. I have no doubt that it will add lots of efficiency to our organisation.'
The PMD is also project orientated, Stember notes. 'The PMD is an organisation-wide dashboard that intersects with the LIMS to provide management capabilities and visibility for every workflow. Users can immediately view the status of tasks for each of their projects – including any hold-ups or bottlenecks – so they can respond faster.'
Consolidating data
Consolidation within the CRO space is increasing competition for major global players and for more specialist firms, and this pushes business development and marketing into the daily workflow, says Nancy Rourke, senior product manager, life sciences, at Abbott Informatics. 'Whereas many organisations that we work with, including public health bodies and pharmaceutical companies, have separate marketing departments that function to build business and increase competitiveness, CROs expect to integrate an element of marketing oversight, management and intelligence into their everyday business, and that functionality will ideally be embedded in a LIMS.'
Individual firms therefore look for a LIMS that can offer more than just the testing and reports, Rourke suggests. 'The platform has to stand out in both the pre-analytical and post-analytical functionality. It's not uncommon for firms to build Frankenstein systems that require them to operate one software for accessioning and client requests, a separate LIMS that handles the analytical processes, and then a third system for their client management. But CROs need a platform that can manage an end-to-end workflow. Organisations are increasingly looking for a single vendor solution that can consolidate all their data systems.'
The CRO space is also becoming increasingly multifunctional, Rourke adds. Many CROs carry out contract manufacturing, and offer sample biorepository services. 'Even just a few years ago companies would have required three separate informatics systems to manage their contract research, manufacturing and biorepository operations.
Today, Abbott Informatics' STARLIMS offers full clinical research and manufacturing capabilities that handle post-launch QA and stability studies, as well as biorepository functionality for true end-to-end traceability, and the flexibility to manage changing regulations that govern their operation.'
The flexibility built into STARLIMS means that CROs can easily set up projects with new clients. 'Our customers can pretty much design their own workflows and data capture forms from start to finish, to match how they work with each individual client.' This is configuration, not customisation, Rourke stresses. 'Users can make the system look and behave as they need it to, without any loss of configuration or personalisation whenever there is a new upgrade.'
STARLIMS simplifies the creation of personalised dashboards for each client or project, from client data and contract information, to the creation of multiple projects for each client and project-related protocols. Testing price lists, visit schedules, consent forms, visit dates, and even how the test results are reported and communicated can be personalised.'
Abbott Informatics is continuing to evolve the STARLIMS software to accommodate new technologies and testing workflows. 'The increase in molecular technologies such as next generation sequencing, involves complex methodologies and workflows, and we are developing uncomplicated user tools to accommodate these workflows and simplify data management and analysis,
'The trend for CROs to act as secondary biorepositories is also driving us to build our software with more seamless transitioning from clinical testing to long-term sample storage, so that data is available in a single system for future regulatory review or testing,' Rourke said.
Overcoming inefficiency
There is a real need for software that can link business development and customer demand with sample- and test-oriented functionality, said Andrew Lemon, CEO at The Edge Software, concurring with Nancy Rourke. 'In the preclinical, as well as clinical arena, the CRO works on the ground with customers, negotiating on SOPs, costs and timelines for studies. They must then transition all that data back into the business management infrastructure to set up workflows and protocols, carry out the studies and deliver validated results back to the client. Ideally that happens within the same infrastructure that manages and oversees the experimental, analytical and reporting side.'
There is a huge amount of inefficiency that can creep into that process, however, Lemon believes. 'The key is to automate as much of the process as possible. CROs need to ensure that every stage is transparent, and there is a seamless chain of custody. This is easier said than done, as workflows for each client will involve individualised approaches to how the data is managed and the results are delivered …
'Any software must be able to personalise client workflows.'
The Edge offers its BioRails platform as a hybrid system that combines LIMS functionality with elements of a logistics tracking system, so CROs can optimise all aspects of services provided to multiple clients, as well as manage sample handling and results reporting and analysis.
BioRails combines a project tracking and optimisation (PTO) module, with a data management element that combines electronic laboratory notebook (ELN), and data analytics. A plate- and vial-based inventory module offers seamless management of small molecules, biologics, cell lines or tissue samples. 
'BioRails allows CROs to optimise project planning and scheduling, down to the individual items of test equipment being used, and locating materials in store,' Lemon said. 'CROs can assay sets of samples from different clients in the same test run, even if all other aspects of that workflow are different for each client.
'It saves on resource and reagent use, without compromising on data security or the specific reporting requirements for each client. We also provide functionality in our software that allows clients to carry out cocktail testing, where multiple samples are run together in the same well, in the same plate,' Lemon added.
BioRails provides the option to monitor quality variation and efficiency over time, while metrics tally the number of compounds that have been run using each type of assays, over specified time periods, as well as assay/sample turnaround times.
Larger CROs also have very different software requirements from smaller organisations, notes Joe Rajarao, client engagement manager at IDBS. 'The diverse and often disparate sub-groups that comprise larger CROs tend to operate as distinct cost centers, and are often isolated from each other due to workflow specialisation or geography. A common platform that facilitates the sharing of information becomes a paramount need.'
Informatics platforms should also ideally be domain agnostic to support the workflow diversity represented by multiple sites, Rajarao stresses. 'For example, a CRO might have one site that provides environment monitoring, another that services the biopharmaceutical industry and yet another that conducts clinical trials. Any platform needs to provide continuity to ensure any clinical sample generated is traceable throughout its lifecycle. Lab management and QA must be able to follow the sample from the clinic through to the lab testing regimen and be visible to the project sponsor. Vendors have to be aware of this very important aspect in the architecture and implementation of software solutions.'
As more companies are looking to CROs as external partners and not just as outsourced resource providers, their relationships with their clients have evolved from transactional exchanges to more long-term collaborations. Legacy options for the transfer of data, such as email, file-share, Dropbox or SharePoint, are not ideal with respect to giving study sponsors the option of reviewing data with more depth and context than a final result table stored in a slide presentation or document, he believes.
'To address these needs, CROs have deployed myriad purpose-built solutions that deliver specific capabilities,' Rajarao notes. These 'point solutions' tend to be very effective in the tasks for which they were designed. However, the resulting data silos mean that study managers often have to spend significant time mining these systems and manually compiling data. 'The ability to aggregate relevant data from disparate point solutions to compile the final study report will be a significant improvement to a CRO's product capability, and profitability.'
Precision tumour diagnostics firm Helomics established a clinical CRO operation at the start of 2017, and now offers pharmaceutical, biotech and diagnostic clients a range of 'boutique' services for clinical and translational research, spanning biochemical profiling, genomics, proteomics and cell biology. 'It's an extra revenue stream on top of our clinical diagnostics business and allows us to leverage our proprietary patient-derived tumour models to help develop new therapies,' noted Mark Collins, vice president of innovation and strategy.
Helomics is not alone in this shift, with many diagnostic firms now providing specialised services beyond the scope of the traditional CRO's remit, he points out. 'Modern clinical trials are highly data-driven. You are selecting cancer patients based on biomarker profiles.' These types of specialised biomarker panels, including the patient-derived tumour assays offered by Helomics, in turn require highly flexible informatics systems that can manage process and analyse complex data.
Helomics is leveraging its proprietary regulatory-compliant D-CHIP (dynamic clinical health insight platform) bioinformatics platform, launched in April, which applies machine learning to data from multi-omic studies in the database for insight about how patients are likely respond to drugs. Helomics has also employed Abbott Informatics' STARLIMS for the last six years as its clinical diagnostics LIMS, and is now deploying STARLIMS to drive its CRO business.
While flexibility is key, you don't want a LIMS so complicated it becomes impossible to maintain. 'That sort of 'lifeboat' software – which has every kind of functionality for every kind of eventuality – becomes a beast to maintain,' Collins said. 'Sometimes a more focused solution can work better.' Absolute security is also a key consideration for Helomics, adds Robert Montgomery, manager of IT and LIMS.
'We want to be able to set up and configure new projects within days, not weeks, and have role-based permissions that guarantee client data security and meet regulatory guidelines and rules we are subject to, such as CLIA. As a boutique CROs, we need software that is project centric to manage diverse and often complex workflows for individual clients, which is very different to the sample-centric structure of a traditional LIMS. You want to be able to keep all your project data together, and easily accessible, and available to the sponsor, in the correct format, in just about real time,' Montgomery concludes.