Cloud drives simulation and collaboration
At the European Altair Technology conference, Robert Roe heard that new tools for simulation and cloud technology are driving innovation within modelling and simulation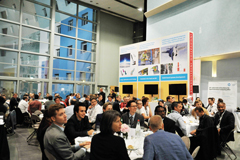 High–performance computing is becoming much more relevant to CAE, James Scappa, CEO of Altair, told the company's annual European Altair Technology conference in Paris at the end of September.
HPC is one of several trends that are driving change within the industry, he told his audience of more than 650 simulation and engineering professionals. As well as an increase in the use of HPC, change was being brought about by the proliferation of cloud computing and also by a much tighter focus on workload optimisation and power consumption, he said.
Although in planning for some time, this year's Altair European technology conference had to be improvised – a fire at the planned venue meant it had to be transferred at the last minute to the Cité de la Musique in Paris. Scappa opened proceedings with his views on the trends that are driving change in the modelling and simulation market, with a particular focus on strategic decision making to drive product development forward.
Early in his presentation, Scappa  said: 'HPC is becoming hugely more relevant to the market than it was before – all the guys doing analytics on a business side, banks are buying Cray computers and doing a huge amount of HPC.'
Scappa continued with an optimistic assessment of cloud computing, but he laid emphasis on private rather than public clouds: 'Private cloud computing, I think, is a really top priority for most large size enterprises to manage their computing infrastructure. Although many of the large companies are very nervous and say "we would never go for public cloud computing" most of the concerns are around security, but I think that is changing.'
He explained that workload optimisation is a big area of focus for the development teams at Altair which they were highlighting at the show – particularly with the latest release of PBS Professional 13.0 earlier this year. 'We are doing a lot of things with our PBS technology to control how much power is being used and that is a real driving trend,' said Scappa.
'Our focus is on design synthesis, electronics and communications simulation, visual analytics and machine learning, simple solutions to leverage the cloud and the transformation of the user experience,' Scappa concluded.
Uwe Schramm, the company's chief technical officer, solvers and optimisation, said: 'Twenty years ago we started with Optistruct, a linear solver with a little bit of optimisation. Now we have developed a really broad portfolio of multi–physics applications and we do this through development and acquisition.'
There have been many developments this year from a move into electromagnetic simulation to the acquisition of software packages and extended partnerships. Schramm said: 'Optistruct is really becoming a broad implicit solver for linear and non–linear simulation technology and then not to forget our efforts in vibrations and acoustics. Simulation software for crash analysis is also advancing. We are looking at the composite area and I think Radioss is a leading tool for this.'
Schramm explained that a big change for engineering software is the way in which its users can deploy the technology. He said: 'Today CAE becomes a lot more strategic, a lot more important to driving decisions.' He explained that, through the implementation of optimal design strategies, users could influence the decision making process in a positive way – driving quicker and more accurate results.
Dr Byungsik Kang, a research fellow at the Hyundai Motor Company, told attendees that Hyundai had adopted the use of Altair software for the design of its vehicles. He explained that the company was using Inspire to allow designers to investigate the efficiency of their structural designs, explaining that they were using a 'one model – one solver concept.'
'One model allows greater efficiency savings as results and subsequent modifications can be implemented much faster,' said Kang.
This speaks to a much more tightly integrated simulation process, rather than a series of teams each producing aspects of the design in solitude – the latter method leads to redesign and more iteration throughout the process. Users will see the most benefit from CAE tools when they are used strategically and to drive a particular objective.
As more companies choose to use CAE software for design and verification, it becomes prudent to drive the process through a series of specific models that can provide interoperability to reduce the amount of time wasted by the users. For large projects, this means introducing more features for collaboration and a CAE–driven approach at the heart of the organisation.
However providing the tools is only half the battle, particularly when larger companies can be stuck in their ways with a particular design philosophy.
Benoît Guillaume, optimisation expert at PSA Peugeot Citroën, stressed that while 'topology optimisation is a key factor to reach lighter designs, it remains isolated in many situations because it is difficult to change designers' habits.'
'In order to successfully apply topology optimisation, we must adapt our expectations, optimise at the right time and make optimisation an inescapable part of the workflow,' Guillaume stressed.
Combining workflows across the entire design process is a major focus for Jaguar in the design of its latest vehicles, as Mark Stanton, director of vehicle engineering at Jaguar Land Rover, explained. Stanton put forward the view that simulation was changing the way the engineers think about their design process. He explained that JLR manages 12 vehicle lines and had invested more than € 3.5 billion over the last six months to drive innovation and technological development.
'We use a systems engineering approach,' said Stanton, 'at the start of which is a clear definition of the product that we are trying to produce.'
Simulation allows engineers and designers to plan much more methodically the targets and constraints for a given project, but this requires clearly defined targets based on a product's performance in any given area. If done correctly this means fewer mistakes, fewer iterations and ultimately a faster time to market for the finished product.
According to Stanton, JLR manages more than 10,000 design requirements for the whole vehicle over the course of its design. 'It's a bible to our engineers,' said Stanton.
Jaguar has long been developing and testing cars using CAE, but this commitment to developing these capabilities represents the slow unavoidable progress of modelling and engineering software into every aspect of the automotive design process.
He also stressed that the company feels so strongly about simulation that it choose to invest in CFD rather than buying a conventional wind tunnel to test the aerodynamics of its latest vehicles. Whether CAE tools are used in combination with traditional physical prototyping or not, this level of simulation requires collaboration between design teams within an organisation.
'We want a virtual test method that can verify a vehicle based on all 10,000 of these requirements,' said Stanton.
This is a strategy that will become very familiar to CAE engineers over the coming years, particularly with large-scale projects requiring multiple teams. Rather than producing specifications, designers can produce a model which can go back and forth between different teams within an organisation, as the design takes shape.
One way to accomplish this is by implementing tools for collaboration but equally this requires a change of mind set to put simulation and CAE driven approaches at the heart of an organisations strategy for product development.
Because the cloud provides tools for this sort of collaboration among engineering teams, Schramm forecast that the cloud will increasingly play a larger role in this process. But it has added advantages, for in addition to collaboration, it can also be used to cloud–burst heavy workloads, providing a quick increase in compute capacity for a relatively short time.
Schramm said: 'We can do a lot more with CAE today because of the compute infrastructures. Maybe you are given 64 cores for your crash simulation, but with the cloud you can quickly access a lot more. There are fixed infrastructure limits but the cloud can be used to expand our solution.'
Overall, Schramm concluded: 'What does cloud do today? Well it helps anyone in CAE to be more strategic in their endeavours.'
Robert Roe is a technical writer for Scientific Computing World, and Fibre Systems.
You can contact him at robert.roe@europascience.com or on +44 (0) 1223 275 464.
Find us on Twitter at @SCWmagazine, @FibreSystemsMag and @ESRobertRoe.