On-Demand Webcast: CDS Built for the Lab - Driving Ease of Use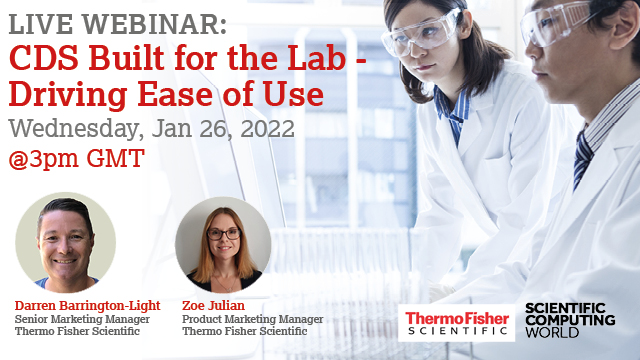 Webcast date (GMT):
Wednesday, January 26, 2022 - 15:00
Watch this free on-demand webcast to discover the latest release of Thermo Scientific Chromeleon CDS, bringing new capabilities to every laboratory.

The laboratory is a centralized hub of activity from sample analysis through to result generation. Setting your laboratory up for success requires selecting the right chromatography data system (CDS) and ensuring you realize its full capabilities to deliver maximum benefit to your business. That means you need software that is easy to learn and easy to use, enabling you to do more with less, eliminate errors and reduce out-of-specification results while keeping up with ever-evolving standards and regulations. 
Key Learning Objectives:
Learn how to super-streamline your data analysis workflows
Discover best practices for ensuring efficient data processing with smarter reporting
Uncover how to make compliance easier and eliminate non-compliant spreadsheets from your laboratory
Understand how to centrally and remotely maintain your CDS for maximized performance
Who Should Attend:
Lab managers, supervisors and laboratory technicians
Quality assurance managers
IT and system administrators supporting laboratory software systems
Speakers
Darren Barrington-Light
Senior Marketing Manager
Thermo Fisher Scientific
Zoe Julian
Product Marketing Manager
Thermo Fisher Scientific
Moderator
Robert Roe
(Editor, Europa Science)