11 November 2022
This article is brought to you by: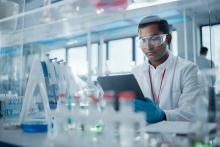 Credit: Gorodenkoff/Shutterstock
When modern LIMS software overtook traditional paper-based record-keeping in the lab, operations in every industry improved. Automated data collection drove efficiencies at the bench. Cloud solutions accelerated knowledge-sharing between partners. Built-in security and permission feature enhanced data integrity. There's hardly a lab in operation right now that hasn't gained from this leap towards digital transformation.
That was then. Today, forward-thinking lab managers are taking the next big leap, this time from data collection to data science.