Nominations for this year's Photonics100 are now open!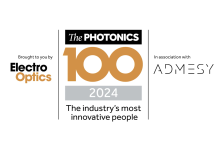 The Photonics100 is back for its second edition! Last year's inaugural list of photonics R&D 'rock stars' over at our sister site, Electro Optics, included Mark Wade, chief scientist of Ayar Labs (which recently demonstrated its optical I/O data centre networking technology at OFC); Daniele Filippetto, whose work on machine learning at Berkeley Lab could improve control of particle beams and lasers; and Nicholas Harris, the CEO at 'photonic supercomputer' company Lightmatter.
So this year we again want your help to celebrate those people working in photonics-related parts of the scientific computing world. Whether those using high-performance computing in photonics research, or those using photonic technologies in areas such as quantum computing, we want to hear about the experts on the cutting edge of industry; the innovators, and the unsung heroes. 
How can you nominate for The Photonics100?
It couldn't be easier. Click this button:

and fill out the short nomination form, outlining who you would like to put forward and why.
The search is on again this year for 100 new champions – the chief technical officers, the heads of research and development, the senior engineers, research leaders, entrepreneurs and others who have helped shape the industry over the past 12 months and that will help drive it forward for years to come. 
We need your help to tell their stories. Who among your colleagues or customers deserves recognition as a driving force in the development and adoption of photonic technologies? 
While our industry certainly could not function without other specialisations – the marketers, the salespeople and senior executives who drive businesses forward – The Photonics100 is designed to celebrate those working actively on the scientific innovation side of the business.
It is also intended to shine a light on the latest developments, whether in photonics processes, product development or pure research. In an effort to consider as many new entrants as possible, our advice would be to focus on people who have made advances in the preceding 12 months or so.
Nominations have been grouped into four distinct categories:
Photonics vendors – suppliers and integrators of photonics components and systems, such as optics, lasers, sensors, test and measurement, optoelectronics, illumination and imaging.
Original Equipment Manufacturers using photonics – integrators using photonics as an enabling technology in vertical markets such as life sciences, defence, automotive, aerospace, mechanical engineering, electronics, semiconductors and optical communications.
Start-ups – companies under five years old, operating as either a photonics vendor or an OEM (as defined above).
Academia/research – either those involved in photonics research itself or those using photonic technology to further research in a non-photonics field, such as physics, chemistry, biology, medicine, engineering and more.
Can I nominate customers or clients of mine?
Absolutely, as long as they satisfy the other criteria, all are welcome.
Can I nominate more than one person?
Yes, but you must complete a separate nomination form.
When should I nominate?
Nominations for The Photonics100 have opened and will remain so for several months.
What happens after nominations?
Once the submissions window closes, an internal judging panel, led by our head of content Mark Elliott, will review the entries and draw up a shortlist of nominees. We will then contact those nominees directly for further information. If you have any questions about the process, please contact mark.elliott@europascience.com.