Issues
Browse our previous issues below, or browse and search for specific features or analysis & opinion.
All our articles, news, product announcements and more are available from the navigation at the top of the site (accessible via the menu button for smartphone or tablet).
Access is free when subscribed and logged in.
Pages
Latest issue
A roundup of software tools available to scientists using HPC and AI software
Scientists and researchers are using AI to help accelerate the discovery of new drugs for a wide variety of different medical applications.
Integrators and cloud providers help facilitate access to HPC and deliver additional expertise and support, which helps scientists to effectively use computing resources, finds Robert Roe
Today's DNA sequencing technologies now make it possible to sequence whole human genomes cost effectively and with speed.
The world of MultiBody Dynamics simulation is changing, writes Gemma Church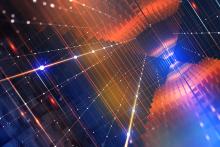 Quantum technology is going through a period of rapid development, with several technologies driving the adoption of this emerging computing framework, finds Robert Roe
A roundup of cloud technology providers that support researchers using HPC