Scientific Computing World magazine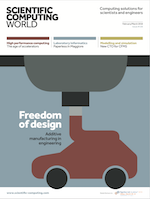 Scientific Computing World is the world's leading publication dedicated to the computing and information technology needs of professionals working in science, technology, engineering and medicine. A multi-platform resource, appearing in magazine, web and email formats, it covers all aspects of computing, from the way in which the latest software is revolutionising research to the practicalities of new product installations. It reaches more than 25,000 readers across all media. The print edition is distributed at highly targeted trade shows, scientific conferences and expositions in Europe and USA. Our readers use, recommend and buy the latest technical computing solutions to advance their work and make science and engineering faster, easier and cheaper.
To download our advertisement specifications and mechanical data, click here
Our expanded editorial coverage appeals to a broader range of scientists and engineers than ever before and the content is clearly signposted into three sections:
Informatics software is driving the development of the 'Smart Laboratory', where products ranging from Electronic Laboratory Notebooks through traditional Laboratory Information Management Systems (LIMS) to cloud-based and Product Lifecycle Management systems are not only speeding up the business of analysing samples but also converting the data into knowledge for the enterprise or organisation. We report on developments from the discovery and QA/QC laboratory as well as process-analytic quality assurance. To find out how to advertise in our Laboratory Informatics Guide, click here.
High-Performance Computing (HPC) is central to the publication, with a special section in the print magazine and an e-newsletter devoted to HPC. Because of the nature of today's supercomputers, end-user scientists and engineers do need to understand the compute architecture if they are to get the best out of their machines, so in our HPC section we report on developments in the hardware and discuss the software challenges. To find out how to advertise in our High-Performance Computing section, click here.
Modelling and Simulation software in engineering, chemistry, and the life sciences focuses on engineering design, research and development, with simulation and optimisation (in both mechanical and chemical engineering) a particular strength of our coverage. To find out how to advertise in our Modelling and Simulation section, click here.
Click here for HPC yearbook media sheet
Scientific Computing World website
Our website carries web-exclusive material, up-to-the-minute industry news together with a fully searchable archive of all Scientific Computing World's high value editorial. It is increasingly popular with visitor numbers climbing month by month.
Newsline email newsletters
We have three regular email newsletters, once for each of the three main sections: HPC, Laboratory Informatics, and Modeeling and Simiulation.
If you would like to discuss these and other opportunities, contact our sales team at sales.scw@europascience.com. You can also download a copy of our Terms and Conditions for advertising sales.